The 5 Paw Winners Showcase is an annual blog to showcase each winner, the best bits about them and the area they are located in. Use this as a guide when researching your next holiday.
NSW Pet Friendly Accommodation
Echoes at Fingal Bay – Villa 1
Port Stephens, The Hunter NSW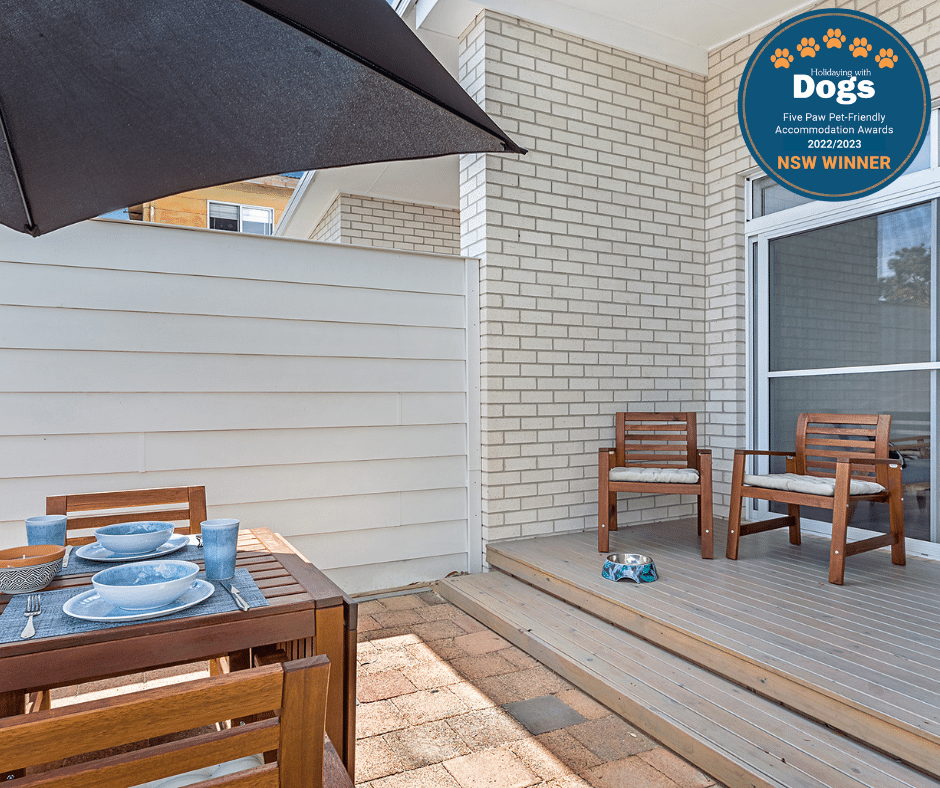 Accommodation Highlights
Pet-friendliness: Dogs are allowed inside and the private courtyard out back is securely fenced. Dog bowls and toys are provided and even a doggie treat on arrival. The owner's Michelle and Andrew have an information guide with all the best dog friendly spots to walk your dog in the area.
People friendliness: There are three bedrooms and two bathrooms that sleep 6 people. It is beautifully furnished, and has a fully equipped kitchen and other little luxuries like Netflix, free Wifi and a human treat on arrival.
Location: Fingal Bay is one of the many bays in Port Stephens, roughly 1 hour north of Newcastle. The local beach is a short walk. Or, jump in the car to explore the rest of the region.
Value: Starting at $220 per night.
More about Fingal Bay, Port Stephens NSW
Check out our blog about Holidaying with your Dog in the Hunter Valley
The Shoal Bay Country Club is a short drive from Echoes at Fingal Bay. A great spot to enjoy dinner in the pet-friendly courtyard
Take a walk along the many beaches of the Port Stephens area. For details on which ones are off-lead, click here
Berubi Beach is a must-visit and only a 25 minute drive from Fingal Bay. It is one of Australia's most stunning beaches and there is a dedicated dog exercise area.
QLD Pet Friendly Accommodation
Clint's Beach Cottage
Sunrise Beach, Sunshine Coast QLD
Accommodation Highlights
Pet-friendliness: The owner provides dog toys, bowls and treats for your pooch. For smaller dogs there is a doggy door. Nearby is the dog-friendly beach for off-lead roaming and a dip.
People friendliness: We love that the house has everything you need for a home away from home, plus things like Netflix, Wifi and a Smart TV.
Location: There is so much to do in the area. walking distance to the beach and local shops/cafes. A short drive to Noosa Junction and other Noosa attractions.
Value: Price starts at $200 for 2 people. For the size of the house and location, this is excellent value.
More about Sunrise Beach, QLD
Sunrise Beach is fully off leash and has kilometres of beach for you and your dog to enjoy.
A short 3 minute drive takes you to the township of Sunshine Beach. It has a few shops and restarants, plus the new Sunshine Beach Surf Life Saving Club where you can grab a drink and a bit to eat.
For your coffee fix, head to Chalet and Co. Sandy feet and pets are welcome!
A popular spot is Noosa Heads, which is less than 10 minutes away by car. There are beauitful beaches, shopping, wining and dining and more. Go to the Visit Noosa website for more information.
Visit Noosa has also put together some amazing information on dog beaches in the area.
SA Pet Friendly Accommodation
Seagrass Villa 1 at Normanville
Normanville, Fleuriue Peninsula SA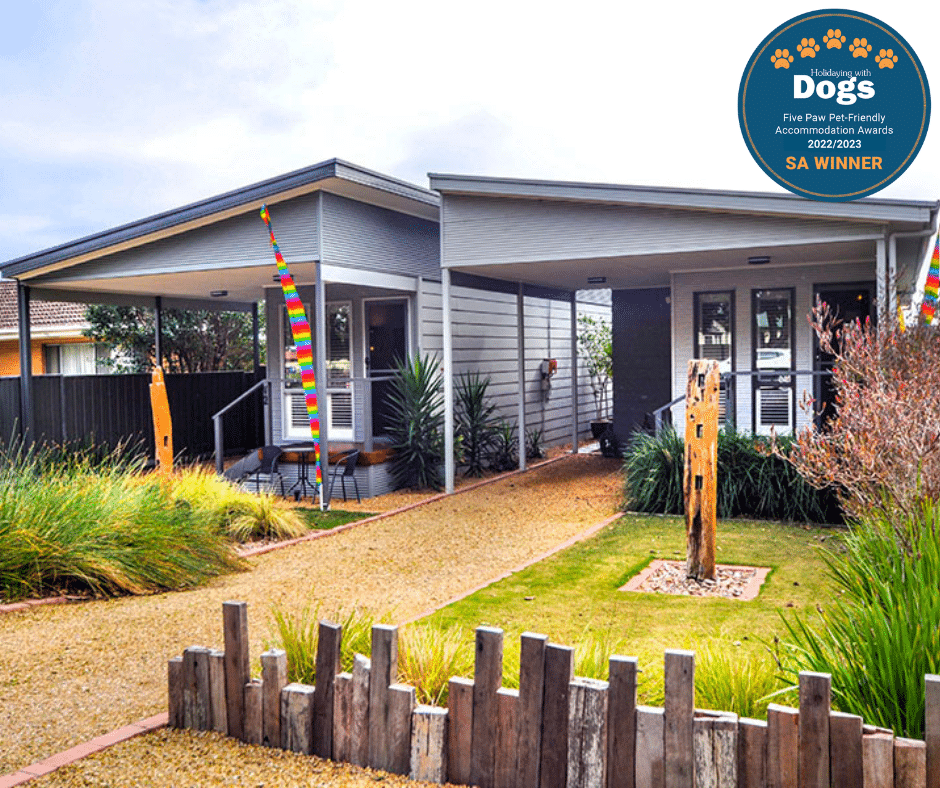 Accommodation Highlights
Pet-friendliness: Dogs are allowed inside and the small courtyard is fenced. A little treat is waiting for your dog on arrival and dog bowls, toys, bedding and poo bags are provided. There is even a special towel just for drying off your pooch after a swim at the beach.
People friendliness: Choose from a complimentary bottle of local wine or beers from a local brewery (Smiling Samoyed Brewery). An ample breakfast is also provided. It is a romantic getaway with a touch of luxury.
Location: Easy to get to from Adelaide and within walking distance to all the best spots in Normanville. If you want to explore the region's beaches, wineries and sights, everything is a short drive away.
Value: Starting at $290 per night.
More about Normanville, Fleurieu Peninsula SA
Normanville/Carrickalinga Beaches are off-lead between 200 meters north of Normanville Jetty (Lacham Street access) to the southern side of Carrickalinga river estuary. Find out more about the other dog-friendly beaches in the area here.
Local council provide poo bags in the area that are totally compostable.
Normanville Kiosk and Cafe is right on the beach and the perfect place to get your morning coffee before a walk.
Just a 15 minutes drive away is a brewery called Smiling Samoyed Brewery. It is so dog friendly, they name it after their dog!
If you'd prefer to visit a winery there are plenty to choose from in the area. McClaren Vale is around 40 minutes from Normanville. Alpha Box and Dice is one of our favourites as they welcome dogs into the cellar door and have a little treat for your dogs. View all the pet friendly wineries in the area here.
TAS Pet Friendly Accommodation
Sisters Beach Retreat
Sisters Beach, North Coast TAS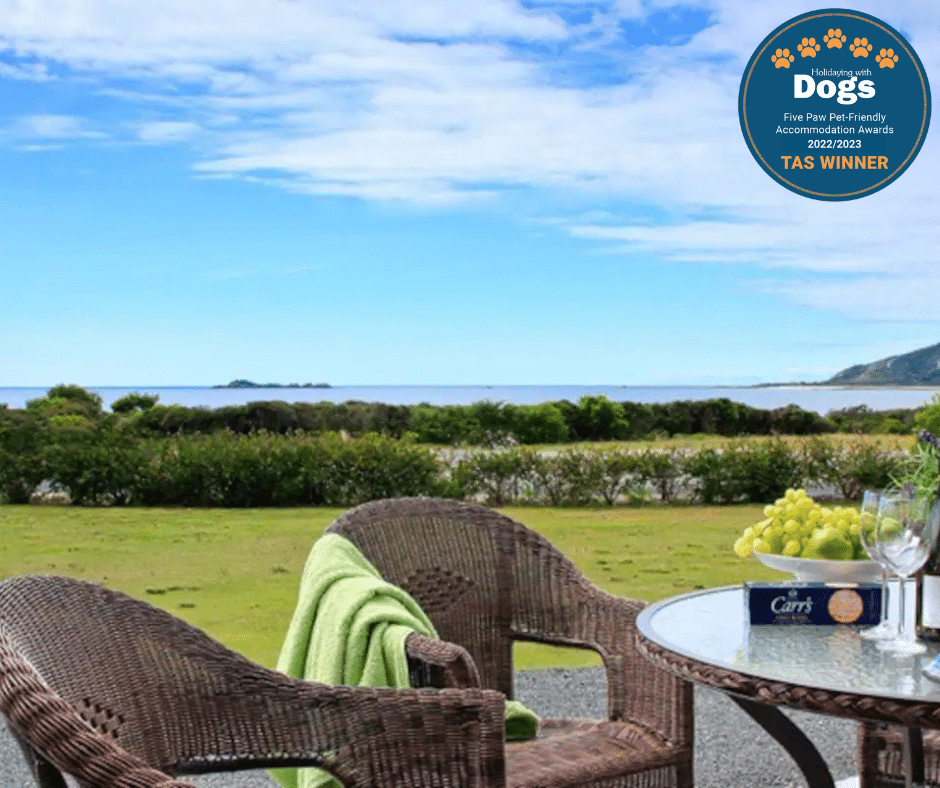 Accommodation Highlights
Pet-friendliness: Dogs are allowed inside and there is a large fenced yard outback. Literally on the doorstep is the beach where your dog can explore, swim and run.
People friendliness: Bright, colourful and comfortable, the home has everything you need from home. Sleeping 5 people in total.
Location: It is surrounded by the Rocky Cape National Park and sea views. Visitors can walk along the beach or explore the area.
Value: Starting at $180 per night.
More about Sisters Beach, North Coast TAS
Little Sisters General Store is just down the road and where you can stock up on supplies, or grab your morning coffee.
Sections of Sisters Beach are dog friendly all year round. Take a look at the map detailing the designated areas.
Visit Pear Tree Cafe and Bar for lunch and a cheeky wine
If you enjoy fishing, there is a great spot at the boat ramp.
Explore fabulous walks that start at Sisters Beach Retreat that will take you to caves, beaches, waterfalls and past some stunning coastal and inland scenery.
VIC Pet Friendly Accommodation
Bed and Bark
Warburton, Upper Yarra VIC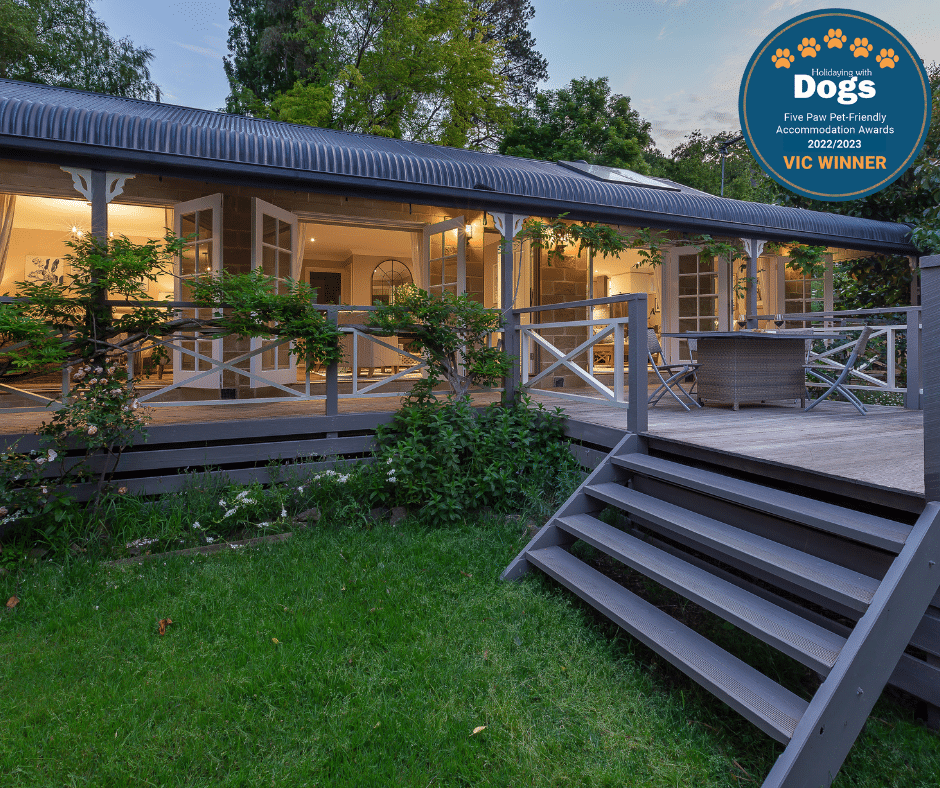 Accommodation Highlights
Pet-friendliness: It's all in the name! The owners are dog lovers and welcome your dogs too. They provide dog bowls and beds, dogs are allowed inside and the property is fenced. The Yarra River is a short walk away where your dogs can paddle and explore.
People friendliness: A warm and cozy country cottage with 1 king and 2 single beds. There is wifi through and plenty of little luxury touches to make your feel special on your holiday.
Location: Warburton is a little town around 1.5 hours drive from Melbourne, part of the Upper Yarra Region.
Value: Starting at $280 per night. Prices can fluctuate throughout the year.
More about Warburton, Upper Yarra VIC
Warburton has a fantastic country bakery for your fresh bread in the morning or a bite to eat.
Through the centre of town flows the Yarra and is a beautiful spot to take teh dogs for a walk. The Warburton Waterwheel is a local bit of history worth visiting.
The Redwood Forest is often on visitors itinerary, but dogs are not allowed. If visiting, we recommend checking out a local dog sitter.
Being so close to the Yarra Valley, you can take a pet-friendly winery tour with Pooches and Pinot Wine Tours
WA Pet Friendly Accommodation
Salt 112 Middleton Beach
Middleton Beach, Albany WA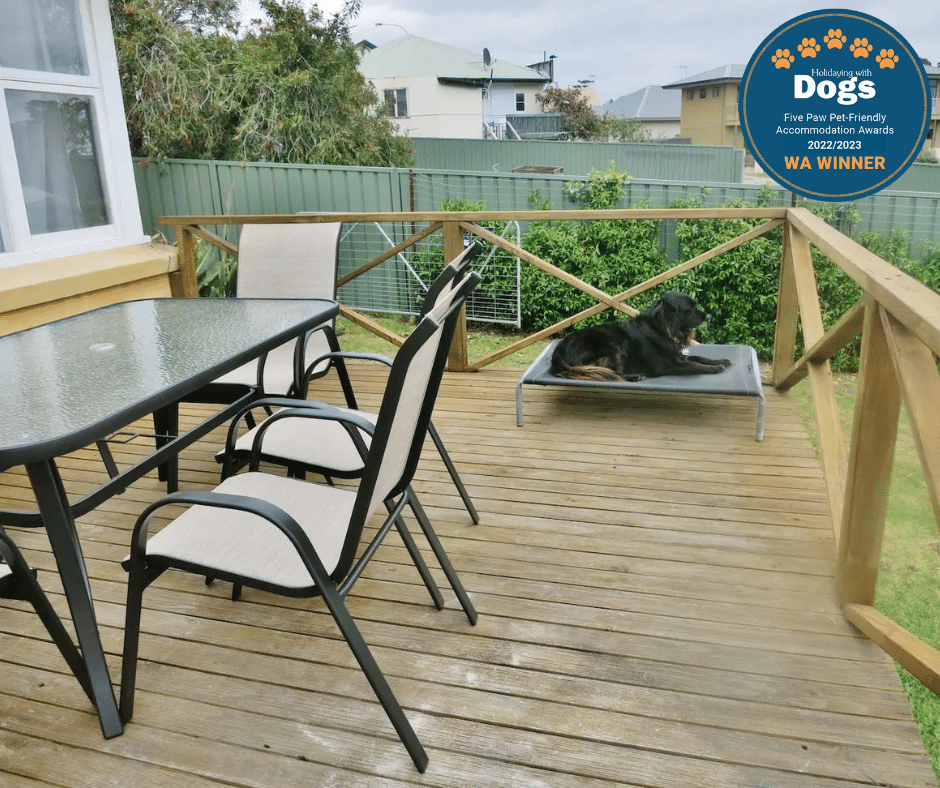 Accommodation Highlights
Pet-friendliness: Dogs are allowed inside and a good sized back yard with a secure 1.8m coloubond fenced and 1.2 farm gate at the side.
People friendliness: Cozy beach house sleeping up to 8 people across 3 bedrooms. Fully airconditioned and self contained.
Location: Middleton Beach is located in Albany WA, a stunning part of WA. The beach is dog friendly 24 hours a day, 7 days a week.
Value: Starting at $150 per night, this is classified as a budget stay.
More about Middleton Beach, Albany WA
Middleton Beach is dog-friendly all year around. Just avoid the area in front of the surf club.
At the Marina, dogs are allowed off lead on the small beach between Hunter Street and Swarbrick Street.
For a bite to eat, Denmark Good Food Factory welcomes dogs on lead.
For other dog walking ideas, check out the local council brochure here
---