The Five Paw Pet-Friendly Accommodation Awards were created to give recognition to outstanding accommodation providers and accommodation facilities that make dogs and their owners feel like valued and welcome guests.
A voting system has been integrated into each property listing to allow the public to vote for their favourite properties. In addition, guests have the opportunity to rate and review a property after their stay.
The public will have the opportunity to vote for their favourite properties and rate them based on the following four categories:
Pet-friendliness

People friendliness

Location

Value

Each category is rated from one to five paws. The top-rated* properties will go into the finals to be judged by the Holidaying with Dogs team who will award the 2018-2019 Five Paw winner in each state or territory. Any properties that have received a perfect 5 paw rating from guest reviews, will automatically become a finalist.
The Holidaying with Dogs team will make the final judgements based on the same criteria to select a 5 Paw Winner in each state.
The 2018-2019 winners will be announced in July 2019. You can read the full terms and conditions for the 5 Paw Pet-Friendly Accommodation Awards here.
Best of luck to all property owners!
START SEARCHING FOR YOUR NEXT HOLIDAY
*scores will be averaged across the four voting categories
5 Paw Pet-Friendly Accommodation Award Winners 2017
---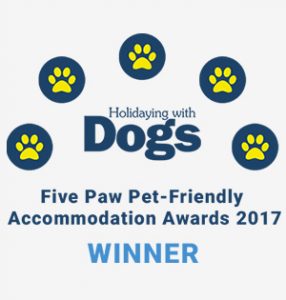 ---