5 Paw Pet-Friendly Accommodation Award Winners 2017
The Five Paw Pet-Friendly Accommodation Awards were created to give recognition to outstanding accommodation providers.
The most important qualification for a Five Paw rating is that accommodation facilities make dogs and their owners feel like valued and welcome guests.
Below are the 2017 Winners.
---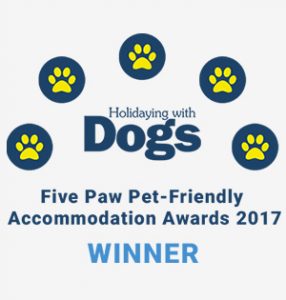 ---
2017 Finalists
The 2017 Five Paw Pet-Friendly Accommodation Awards finalists were chosen by the general public based on the following four categories.
Pet-friendliness

People friendliness

Location

Value

Throughout 2018, guests will continue to rate and review properties after their stay using the same criteria. These ratings will form the basis of the 2018 awards to be announced in January 2019. For more information regarding the ratings, reviews and awards, please contact the team at info@holidayingwithdogs.com.au.