We headed north of Sydney to the Hunter Valley. Sadly we had to leave Buster and Hazel at home, but picked up some new friends along the way. Best known for its vineyards, the Hunter Valley has 200 km of coastline, and spectacular National Parks, state forests, many rivers and the Brokenback Ranges inland. Our getaway included exploring Newcastle, the Hunter wine region and Port Stephens, where we discovered a paradise welcoming the two of us and our new best friends.
The Hunter region extends from Newcastle, about a two hour drive north of Sydney, up the coast of NSW to Harrington, and inland to include many regional centres.
The original inhabitants of the region were the Wonnarua people, who lived in the area for over 30,000 years. European settlers discovered the Hunter River by chance in 1797, during a search for escaped convicts. Abundant reserves of cedar and coal were harvested for the steamship trade in the early years, with vineyards being planted in the early 19th century when the climate was found to be ideally suited to the production of wine.
Newcastle
The Hunter River meets the sea at Newcastle. The gateway to the Hunter Valley is a wonderful city to start your holiday, before venturing up the coast, and inland to the natural attractions. The stunning beaches of Newcastle are linked by the Bathers Way, a coastal walk extending between Nobbys Beach and Merewether Beach. Two historic sites on the path are the convict-built ocean bath Bogey Hole, and Fort Scratchley, built in the 1880s and a perfect viewpoint for whale watching.
The coastline in Newcastle seems to go on forever. Horseshoe Beach is the only official off lead beach; and an essential visit on a doggy agenda. At any time of day you will find plenty of dogs racing up and down the beach ready to play. The beach is protected by the spectacular Nobbys Head, the site of the earliest surviving lighthouse in NSW, Nobbys Lighthouse. Built in 1858, it is now on the Commonwealth Heritage List, and is floodlit at night, a stunning sight if you're out for a late walk. There are also three keeper's houses and a signal station; the site is open on Sundays offering unsurpassable 360 degree views.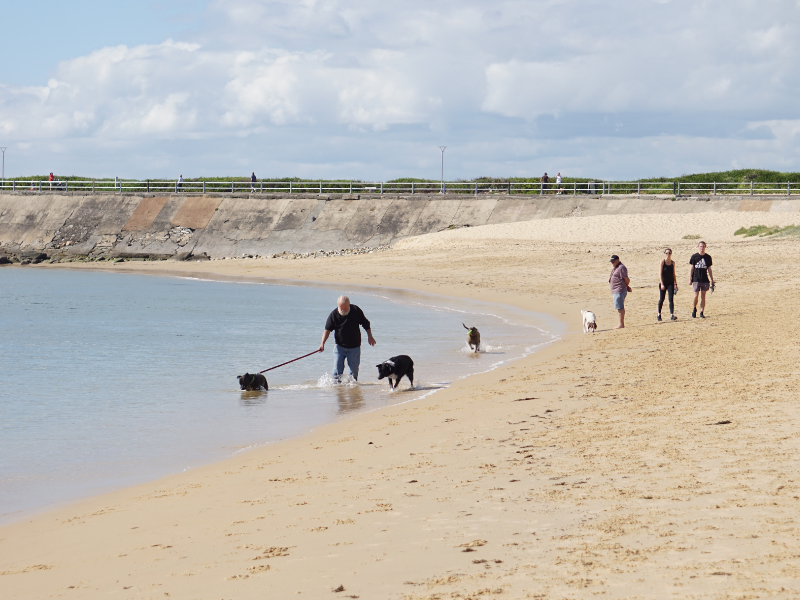 For off lead dog fun a short drive from Newcastle head to Stockton and Merewether; both have exercise areas adjacent to the beach. Further south, Redhead Beach and Hams Beach provide room to run and roam. Hams Beach is a renowned off leash beach, friendly and clean. It is at the northern end of Caves Beach, which itself does not welcome dogs, but has a fantastic dog exercise area back from the beach.
Pet Friendly Accommodation in Newcastle
Tantarra Guest House
Tantarra Guest House is an Indo-Asian inspired B&B providing superior dog friendly accomodation. The pool, gardens and grounds are tranquil, and a breakfast hamper is delivered to your room every morning. The guest house is located in beautiful Warners Bay, and dining options are just a two minute drive away. Dogs are welcome in the well appointed rooms; bring bedding, food, bowls and toys to keep your little friend happy and pampered.
Hamilton Heritage Bed and Breakfast
Hamilton Heritage Bed and Breakfast is a Federation brick and stucco building, with original ornate features and open fires providing the charm of days past. It contains three separate rooms, each with their own en suite, and welcomes dogs of all varieties. The owner Laraine will make you and your dog feel right at home. Enjoy a cup of tea with your breakfast in the sunroom – a lovely start to the day – or sit in the garden for some peace and quiet. Beaumont Street has cafes, restaurants and pubs, and Gregson Park, with off leash areas, and the Newcastle Foreshore are a short drive away.
PET FRIENDLY ACCOMMODATION IN NEWCASTLE >>
Hunter Wine Region
The Hunter Valley is one of the leading wine regions is Australia, best known for its superior Semillon, but also producing exceptional Shiraz, Chardonnay, Cabernet Sauvignon and Verdelho. Vines were first planted here in the early 19th century, when its perfect climate of cool ocean breezes and volcanic basalt soils were found to provide ideal growing conditions.
The heart of the Hunter Valley Wine Country, Brokenback Range is part of the Great Dividing Ranges, the most substantial mountain range in Australia. The southern valley and foothills of the Brokenback Range are the location of the most esteemed vineyards of the region, however vineyards near Cessnock are equally acclaimed. Pokolbin cemented its popularity as a source of plentiful wines due to its location on the 'convict trail', a route to drive convicts to work in the coal mines of Cessnock.
Pet Friendly places to eat and drink in the Hunter Wine Region
There are many wineries worth visiting in the Hunter. For pet friendly tasting and dining, the Mill Restaurant and Brokenback bar at Estate Tuscany, Polkolbin, will seat you and your dogs outside, providing panoramic views of vineyards and mountains surrounding the 26 acre estate. Long walks on lead after indulging will satisfy you and your dogs – check with staff before setting off. In Lovedale, Lucy's Run Wines welcomes your dogs to their 9 acre vineyard in a 68 acre cattle farm. They are home to Woof Woof Wines: every purchase supports Pet Rescue, so buy and give generously. And the name? Lucy was a dog with the run of the place!
We visited David Hook Wines, Pigg's Peake and Stomp! Wines. At David Hook Wines Cellar Door, you'll find Cafe Enzo in Pokolbin. They source local seasonal ingredients which you can enjoy in their outdoor traquil setting with a beautiful glass of David Hook Old Vines Chardonnay. And, most importantly, your dog at your toes.
Pigg's Peake Winery offered something a little more unique. Their tastings are enjoyed among the wine vats where the fermentation process is taking place. We enjoyed a cheese platter with our tastings and had Ellie-May (from The Wattle Lodge) join us. Pigg's Peake has Yellow Billy Restaurant. Their custom made fire pit is used daily to cook delicious food like a local lovedale suckling pig to share.
Here are some other great spots.
Dog Walks in the Hunter Wine Region
Kitchener Poppethead Reserve, Cessnock: Dogs can be walked on lead along the 1.2km Poppethead Dam Walk, or for a more vigorous trek tackle the 5km Poppethead Bushwalk.
Watagans State Park: Includes waterfalls, rainforest and summit views. The Moss Wall Walk is an easy walk along a unique moss covered rock wall. A steep but short hike to Monkey Face Cliff will bring you to the base of a popular abseiling spot. Longer hikes will immerse you in this natural place of beauty. Dogs are welcome on lead.
Lake St Clair, north of Singleton: The lake is popular for fishing, skiing, swimming and sailing. Take a picnic or make use of BBQ facilities. Dogs are welcome on lead, and visitor fees apply.
Stock up on local produce and handmade items at one of the many markets in Hunter Wine Country. On any weekend there is a market or two across the region, in Pokolbin or close by. The Sunday Muster is notable for artistic creations, and the Hunter Valley Gourmet Market showcases locally sourced food and wares.
Pet Friendly Accommodation in the Hunter Wine Region
The Wattle Lodge, Glendon Brook, Hunter Valley NSW
The Wattle Lodge is a cosy cottage set on 100 acres of stunning farmland between the Pokolbin vineyards and Barrington Tops. This eco-friendly lodge in Glendon Brook sits on a cattle grazing property, proudly held by the same family for four generations. Still successful after emigrating from Ireland in the 1850s, they now welcome two dogs and their owners to join their own dogs, Dolly and Ellie-May. Your dogs are secure in a fenced play yard and welcome in the cottage. Before setting out for a day of wine tasting, experience the beauty of the Hunter Valley from the front deck: sunrise and lingering over dinner are lovely. The owners Winnifred and Roger will make you feel right at home and are nearby to suggest places to visit best known by long-term landholders. Or simply walk the property with them to experience the appeal of their lifestyle.
Misty Glen Cottage, Pokolbin, Hunter Valley NSW
Immerse yourself in the life of viticulture at Misty Glen in Pokolbin. The self-contained cottage is on a 16 acre vineyard with cellar door, where traditional and unusual methods produce notable, delicious wines with character. With three bedrooms, plenty of guests are catered for, and dogs are lovingly welcomed. Taste their wines in the rose garden overlooking the vineyard, bring a picnic, and test your skill at boules. Explore the property with your dogs on lead; they may even splash in the dam. And meet the residents, dogs Semillon and Chambourcin, cat-dog Tuscany and cat Chianti. They have a blog!
PET FRIENDLY ACCOMMODATION IN THE HUNTER VALLEY >>
Port Stephens
Travelling back to the coast from wine country, head north to Port Stephens. You'll once again be awed by the beauty of azure waters and pure sand, framed by stunning backdrops. Anna Bay, Fingal Bay and Nelson Bay are particularly worth visiting, situated at the end of the Port Stephens peninsula, jutting into to Pacific Ocean.
Fingal Bay
Fingal Bay was originally known as False Bay, often mistaken for the entrance to Port Stephens. The township is surrounded by the Tomaree National Park, and its beach was made famous in the 'So where the bloody hell are you?' ad campaign (thanks, ScoMo).
A narrow stretch of sand, Fingal Spit, connects the mainland to Fingal Island. Cross at your peril – strong waves and deep channels make this journey hazardous. The Port Stephens Lighthouse on the island is heritage listed and still in operation. The keeper's house, constructed with the same imported sandstone, is now in ruins, providing an eerie reminder of life in early Australia. Dogs are prohibited on Fingal Beach, however the adjoining foreshore reserve has on and off leash areas.
Shoal Bay
Shoal Bay is a magnificent horseshoe bay, the sands stretching 2.5km, providing calm waters and unbelievable views. The area of the beach closest to Tomaree Mountain is off lead, providing freedom to play in a beautiful setting.
Nelson Bay
Near Nelson Bay, Bagnalls Beach Reserve is an off lead dog exercise area, with access to a remarkable beach for dogs to socialise. This unspoiled, friendly beach is the go-to for dogs, great for long walks, ball chasing and splashing in the sea. Dozens of swans sit atop a rare seagrass meadow off the beach. This is the only underwater plant that produces a flower, and is crucial to the ecosystem.
A lovely small beach in Nelson Bay, Little Beach, provides access to Nelson Head Lighthouse. The site was chosen in 1875 as the best vantage point to view the waters of the port. This is fabulous walk with your dog on lead while you're in the Bay.
Birubi Point Beach
Birubi Point Beach is a stunning off lead beach in Anna Bay. It is a huge expanse of sand to run and roam which your dogs will love. Dogs are not permitted at the cafe, but pick up a coffee and a bite to eat before or after your walk, and enjoy the view from the grassed area out the front. There is plenty of space, and it is a popular hangout for dogs and humans to relax by the sea.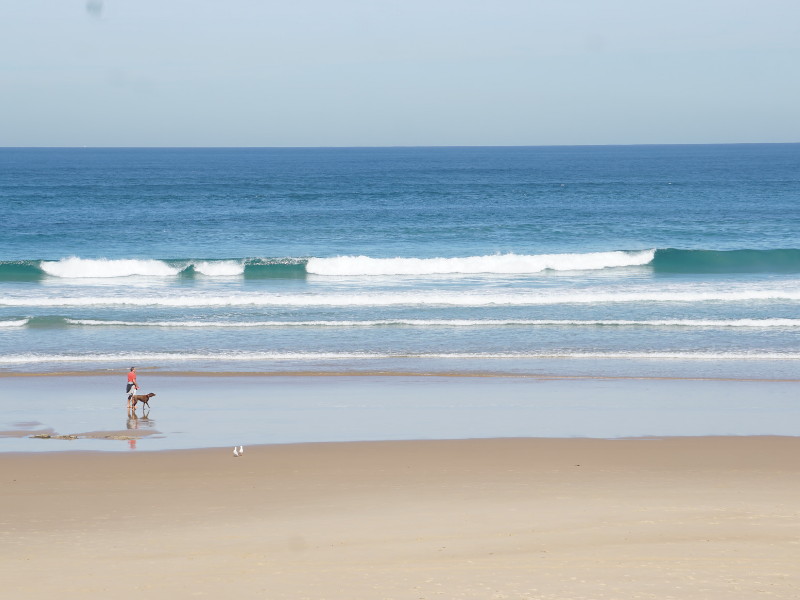 As many of these bays are surrounded by the Tomaree National Park, the walking trails are not an option when you have dogs. Wander through the towns instead, or visit the local parks. Lancaster Park, Soldiers Point, is a newly constructed off lead park which is fully fenced, and a good option if you want to get off the beach. Visit the Port Stephens council website for detailed Dog Park Maps to find the best off and on lead spots.
Places to eat Port Stephens
You'll be needing a drink! The best place to take your dog is the Shoal Bay Country Club. This iconic pub and bar welcomes dogs of all stripes, and the incredible beachfront location provides solace after a hard day's play. The headlands are the ultimate backdrop as you enjoy superb food or just have a few drinks, and if you're lucky you might spot a whale migrating up the coast. The venue hosts live entertainment if you're looking for the nightlife.
Pet Friendly Accommodation Port Stephens
Echoes at Fingal Bay – Villa 2, Port Stephens NSW
Echoes at Fingal Bay provides superior contemporary accommodation in two side-by-side villas, each with three bedrooms and all facilities. Three dogs can stay, with the villas providing the comforts of home, including blankets, treats and a doggy door. They are fully fenced and secure, in an exceptional location close to Fingal Bay and Shoal Bay, where you can shop and enjoy a coffee. The owners have two more pet-friendly properties in the area, Shearwater Guest Cottages, located on a quiet street in Shoal Bay alongside fishermen's cottages.
The Retreat at Port Stephens, Anna Bay NSW
The Retreat at Port Stephens is a rare bush hideaway, nestled in the dunes behind Anna Bay. A range of cabins and bungalows are available within the 1.5 ha setting, with a select few offering peace and seclusion for you and your dog. You may encounter echidnas and monitor lizards, with lorikeets and rosellas in the sky. Some bungalows at The Retreat are completely pet-friendly, allowing your dogs to be inside. A fenced area will keep your dog secure, and your family will love this great holiday venue, so close to Anna Bay and the stunning Birubi Beach.
PET FRIENDLY ACCOMMODATION IN PORT STEPHENS >>
Summary
As always, when travelling with dogs be aware of their needs (and their desire for a good time too). Carry water and a bowl at all times; please do not expect water to be provided by the establishment you are visiting. Your dogs will love you if they have familiar bedding and toys, balls to chase, and their regular food. Don't forget a food bowl too. Always pick up after your dog; it is simply bad manners to leave waste at any time, so please value the hospitality of your hosts. Be a gracious traveller, give a great review when warranted, and you will be remembered fondly.
The Hunter Valley is a rare, special part of Australia. Love your time here. Woof!
---
Have you visited the Hunter Valley with your dog? We would love to hear about your favourite pet-friendly accommodation, wineries and activities in the area. Comment below.