Meet Hazel, a 10-year-old Hungarian Viszla who lives in Melbourne with 'Mum' and Holidaying with Dogs owner, Penny. Hazel likes sunbathing, snuggling under the blankets, chewing tennis balls and tummy scratches. On any given day you'll find her stretched out in any patch of sunlight she can find.
Hazel is also blind but this wasn't always the case.
"One day I was walking Hazel and throwing a ball for her like I'd done hundreds of times before.  But this time was different." Penny explains "Unless I threw the ball so it bounced directly in front of her face, she couldn't find it.  Then I started to notice other changes too.  She had been a master at catching tossed treats, but they kept hitting her in the face.  Then, she began to bump into the furniture."
"All of this happened within a period of 2 weeks.  She was 6 years old at the time and in good health so I didn't even consider blindness.  But, after numerous eye exams, blood tests, MRIs and retinal scans, the diagnosis was confirmed.  She had SARDS (Sudden Acquired Retinal Degeneration) and would rapidly and permanently lose her eyesight."
Within two months Hazel was completely blind and after the initial shock of the diagnosis, Penny began making the adjustments needed for life with a blind dog.
"When Hazel first went blind we had to make some changes" says Penny. "The Vet suggested that we keep the floor clear of objects that may be a tripping hazard and to avoid moving furniture around."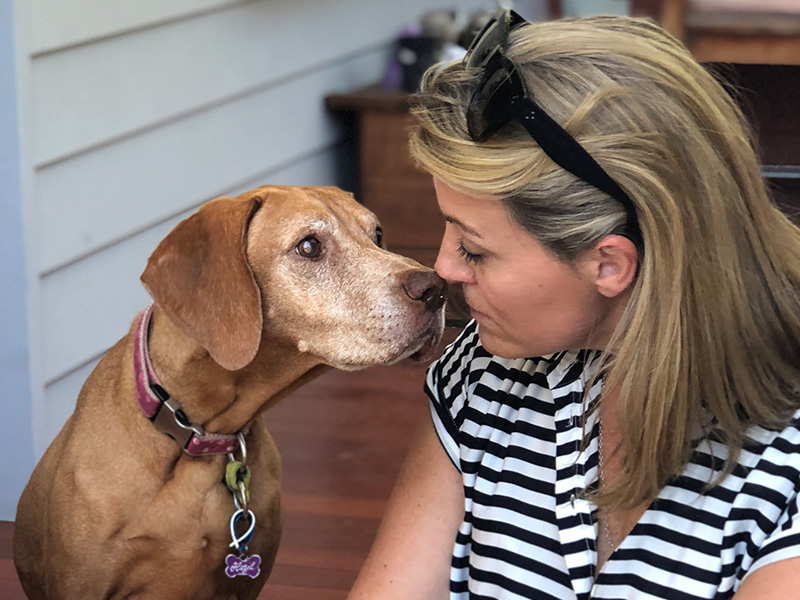 Adapting to life with a blind dog
Penny has made a number of changes around the home and in the way she communicates with Hazel. These include:
Creating a "map" by marking locations around the house with different scents and/or textures:
Fragrant plants are great to flag the tops and bottoms of stairs
Essential oils are great for marking doorways, sharp corners and some furniture – Vicks (used sparingly) is also useful to highlight dangerous objects
Rugs and mats to create different zones. Penny uses a mat for Hazel's food/drink bowls and the hallway runner gives her some orientation too
Switching from visual to auditory training commands: Penny used to point to the ground for Hazel to drop but now has to tap the ground as she says "drop". She also adapted existing commands to warn of obstacles. Penny says:
I tell her to "step up" or "step down" as we're approaching the curb or a step so she knows to raise her foot a bit higher or lower
I tell her "careful" if she's approaching an obstacle and needs to be aware
I yell "STOP!" if she's moving too fast and about to collide with something
Sing while you walk! You don't actually have to sing, Penny admits, but it is helpful to make some sound when walking so your dog knows where you are at all times. "I started with bells on my shoes but I use a range of tools now; the flip, flop of thongs is actually pretty good, jingling keys or simply talking to her and tapping my legs as we walk helps."
Use caution with new dogs. Hazel has trouble distinguishing exuberance in other dogs with aggression, so Penny keeps her on lead when meeting new dogs.  She says "once she's familiar with a dog she will mostly ignore them, unless they're trying to steal a pat from me!".
These days, aside from avoiding large crowds, life with a blind pet is much like any other.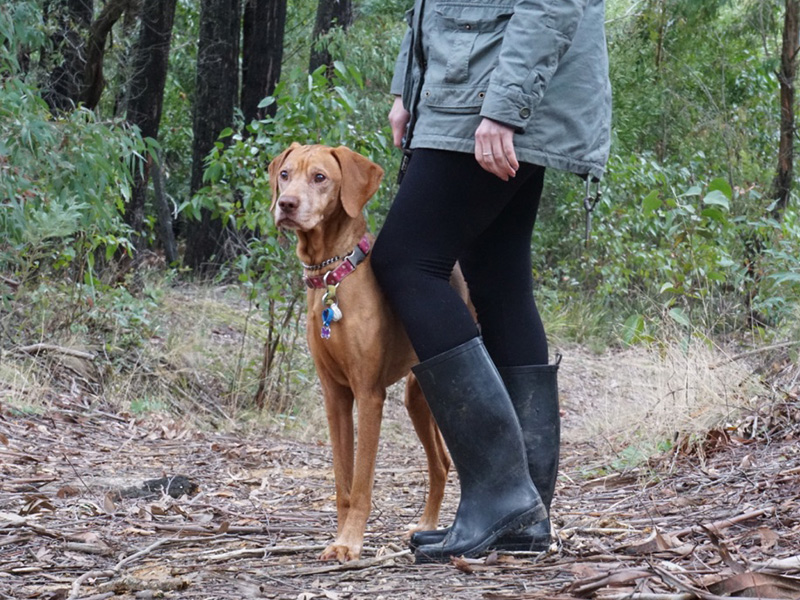 Moving house with a blind dog
"Recently we moved house" Penny explains "this required some forethought and planning to help Hazel adapt quickly to her new surroundings". The scent and texture map is key for a new abode but depending on the size of your property, other things can be useful too:
Stones at the edge of the property – so Hazel could feel the different texture with her paws and use that to navigate her way around the yard and back to the house
Wind chimes also work well for this purpose – providing auditory markers for key areas of your house and property
Taking a blind dog on holiday
In her role as co-owner of Holidaying with Dogs, Penny takes Hazel away on holidays with her regularly.
A dog's primary sense is smell so use this to your advantage. Upon arriving in a new location, sweep your dog's blanket around all corners of the house – to help them orientate themselves
Bring your dog's food mat and bowls so they can easily locate drinking water
Smell is also useful to highlight any hazards. Use strong smelling Vicks or other essential oils on sharp corners and potential hazards that your pet could walk into
When booking holiday accommodation, avoid properties with stairs. Select a property that is fenced. That way, if your pet becomes scared, they cannot run away and hurt themselves or get lost
Warn others that your dog is blind so that they can take care when approaching and greeting your pet. There are a number of leashes, harnesses and bandanas available these days that can be used to highlight your dog's blind status to others
The same applies for other dogs, who may not be happy with an (unintended) invasion of their space. Ideally, allow the blind dog to make the first approach with new people or pets
"Above all, it's about having fun with your pet." says Penny "Despite being unable to see, Hazel loves exploring new places and enjoys a good beach run, just like any other dog."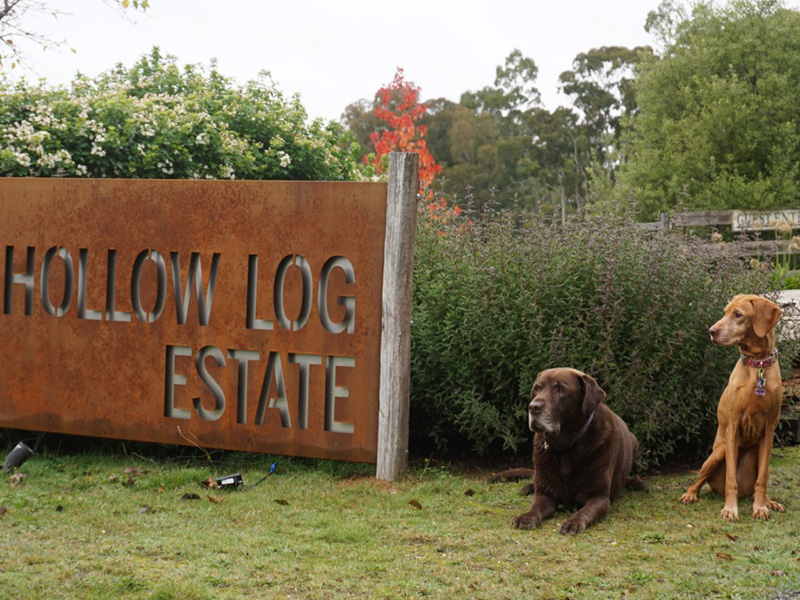 Do you have a blind dog? We would love to hear your tips for keeping them safe and happy whilst on holiday. Comment below.
You may also enjoy reading Holidaying with your dog that includes a handy packing checklist for your pets.
START SEARCHING FOR YOUR HOLIDAY >>