Gippsland and The Lakes has something for everyone. But today, we are focusing on that special dog in your life and why they are going to love it. There are beaches to explore, lakes to swim in, rural areas to roam and pet-friendly homes to relax in.
On our travels to this region, we stopped in Nungurner for two nights and used this as our base to explore the towns and lakes nearby. Located roughly four hours drive east of Melbourne, it is an easy trip to make for a short break or a longer stay.
Pet-friendly properties in East Gippsland
Country House Retreat
Country House Retreat, located in Nungurner, is full of country charm, with all the modern features. There are four bedrooms, two bathrooms, two living areas, a fully equipped kitchen and a fabulous outdoor deck with a pizza oven. The best part is the outdoor area. The huge yard is fully and securely fenced and allows up to three dogs. There is so much space for them to explore without you needing to worry.
Metung Holiday Villas
As you drive into Metung, the Metung Holiday Villas are accessed via Stirling Road. They have a selection of 1, 2 and 3 bedroom Villas and, all allow dogs inside. Each pet-friendly cabin has a living/dining area, fully equipped kitchens and is beautifully presented.
You can make the most of the pool and common areas, or for your daily dog walk, take the short 10 – 15 walk into Metung for a coffee or pub meal. There is a great dog-friendly pub in Metung called the Metung Hotel.
Prime Pet Friendly Tourist Park
Now, this is something truly impressive. Prime Pet-Friendly Tourist Park is 100% pet-friendly, meaning only visitors WITH dogs are welcome to stay. How amazing is that! Situated a short walk to both the dog-friendly park and 90 Mile Beach in Lakes Entrance.
They have a great choice of budget pet-friendly cabins or powered campsites to choose from. While there, enjoy the pool and social evenings organised by the park owners, to mingle with other travellers.
Studio in Eagle Point
The Studio in Eagle Point is such a stunning spot. The study is cosy, but fitted with everything you need. However, the best part is the property grounds and access to the river.
Set on 5 acres with full secure fencing, there is a huge space for your dog to roam. The owners live on the same property, but the space is very private. There is access to a private jetty to swim, canoe, fish or just enjoy.
Kananook Cottage
Kananook Cottage is a 1880s Luxury Private Residence perfect for a couple or small family and allows two dogs. Located in Bairnsdale this dog friendly cottage has a private back deck to enjoy your morning coffee or an afternoon drink in the warmer months. It is really secure for your dogs if you need to pop into town for more supplies.
Dog-Friendly Activities in East Gippsland
Nungurner
Nungurner is a sleepy hamlet in The Lakes area of East Gippsland. There is an array of rolling farmland and Australia bush for beautiful drives or long walks. While staying in Nungurner, you can:
Visit the historical Nungurner Jetty. The small beach is the perfect dog swimming spot or you can hire equipment if you're keen for a day out on the water.
Nyerimilang Park is a historic homestead with beautiful lawns, picnic/BBQ facilities, and walking trails with stellar views. Dogs are allowed to visit but must be kept on lead at all times.
Metung
Metung is a picturesque holiday spot situated the Gippsland Lakes. If you are lucky enough to visit, here are some of our recommendations:
As you drive to Metung, park your car (at the corner of Rosherville Rd and Metung) to follow the lakeside boardwalk for a great dog walk into town.
Here you can grab a coffee at one of the cafes, a locally made ice cream at the bakery, stock up on provisions from the Metung Village Store (#emptyesky), or browse the gift stores.
The Metung Hotel is a pet-friendly pub, with gobsmacking waterside views over Lake King.  Buster and I had a wonderful dinner there!
There is also a fab playground with a water play area, opposite the Village store.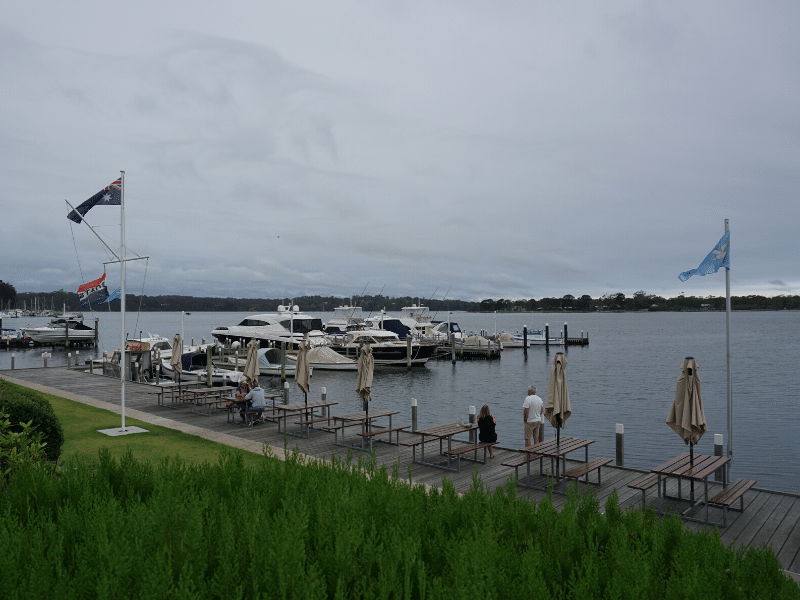 Lakes Entrance
Lakes Entrance is a seaside resort and one of the bigger towns in the area. It is a great spot for you and your dog to explore.
Enjoy a stroll along the Esplanade, where you'll pass all the fishing trawlers.  You can buy prawns direct off the boat.  
Our tip for the best fish n chips is Footbridge Fish n Chips on Myer Street.
At the far end of town, head over the footbridge to check out 90 mile beach – the local council are trialing this as a dog-friendly beach. The offlead areas are either side of the lifesaving club, 200 metres from the tower.
Lunch at Albert & Co is a must. Buster and I sat outside and the staff was very attentive and Buster got lots of pats from passers-by.
Another option for breakfast, lunch or dinner is Six Sisters & A Pigeon.
There's an off-lead dog park on Palmers Road, Lakes Entrance, adjacent to the Aquadome.
Lake Tyers is further east from Lakes Entrance, about another 10-minute drive along Princes Highway.
Red Bluff beach is where the surfers hang out, so more lovely beach, plus there is another great family and pet friendly pub called the Waterwheel.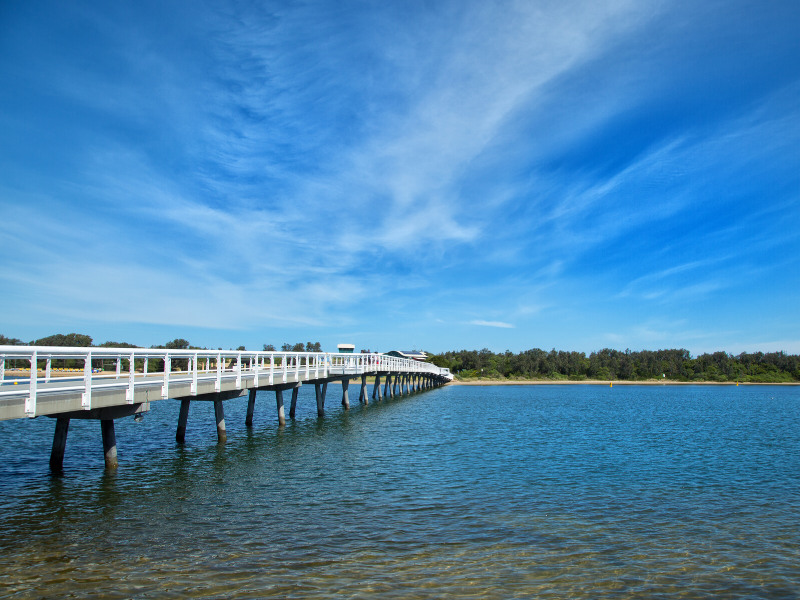 Paynesville and Eagle Point
Paynesville and Eagle Point are accessed from Bairnsdale. There are some great cafes and restaurants to enjoy in town while overlooking the water and Raymond Island.
Jump on the free ferry across to Raymond Island for your daily dog walk. You can Koala spot on the self-guided loop trail, which is an easy 1.5 km walk.
Back in Paynesville, you can stop for lunch and a cheeky wine at Pier 70 overlooking the water. It is a dog-friendly cafe that you can enjoy lunch on their undercover deck area.
Paynesville now has a Michelin Star Restaurant called SARDINE eatery + bar. For a special night out, this is the place to visit.
Summary
There is a national movement for Australians to support our fire-affected regions in 2020. On our visit we found it to be really pet-friendly in Gippsland and The Lakes areas. So pack up your cars and get on the road. You won't be disappointed.
If you've visited these areas and can share some of your top dog travelling tips, please comment below.