North Coast NSW is one of Australia's premier holiday destinations, and is a dog lover's delight when it comes to available properties and fantastic walks.
The area takes in the coastline from Newcastle, only 160km north of Sydney, up to Tweed Heads, on the Queensland border, just below the Gold Coast.
Major towns include Forster, Port Macquarie, Coffs Harbour and Byron Bay, with many more popular coastal towns along the way.
The area is famed for great weather, incredible beaches, heritage rain-forests, plus plentiful rivers and lakes. It is very well serviced by countless business that cater for locals and holiday makers, including world class restaurants/cafes/bars.
Not surprisingly, the region is incredibly popular with those of us who like to take their pooch on holidays, and there's a very wide range of excellent accommodation available.
Lets take a look at some of towns that make up the NSW North Coast, and in particular the dog walks they feature.
BYRON BAY
With a sub tropical climate offering warm summers and mild winters, stunning scenery and beaches, and diverse array of businesses, it's no wonder Byron is a world famous holiday destination.
It's an area that welcomes dogs with open arms, and makes a great holiday destination if you like to travel with your four legged friend.
Most of the walks through National Parks are restricted, however the Rocky Creek Dam has some very nice short walk where dogs can be taken on lead, plus beautiful picnic areas.
There are some wonderful dog friendly beaches with off leash areas that are a must visit.
South Golden Beach: There is an off leash area from a point adjacent to Gloria Street extending north to the Billinudgel Nature Reserve.
New Brighton: From a point adjacent to Strand Street extending south to the Northern Break Wall of Brunswick River. Intertidal Zone only.
Brunswick Heads: Access from a point 20 metres south of the Brunswick Heads Surf Club, extending in a southerly direction for 400 metres to the boundary of Tyagarah Nature Reserve. (Restriction: Intertidal zone only. Access from adjacent to the Brunswick Heads Surf Club only).
Belongil: From a point adjacent to Manfred Street extending easterly to a point on the western side of Main Beach Car Park and including Cavanbah Reserve.
Suffolk Park / Tallow Beach: From a point adjacent to Jarman Street extending north to the Boundary of Arakwal National Park.
For more information take a look at the Byron Bay Dog Map and Off Leash Exercise Areas.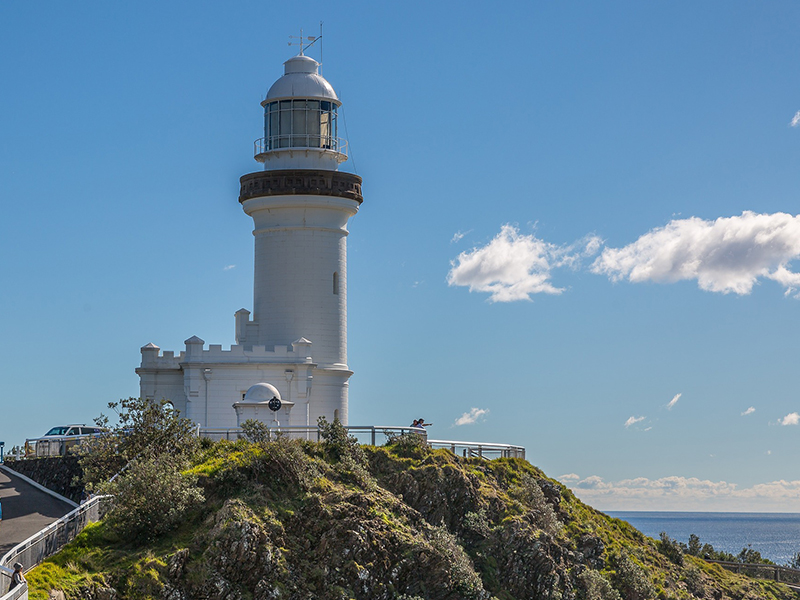 COFFS HARBOUR
Coffs Harbour features amazing beaches, surfing, a World Heritage rainforest, diving and sailing in a marine park, and kayaking on rivers.
There is also a Butterfly House, the Big Banana and an amusement park, so it really has something for everyone.
The Solitary Islands Marine Park is a haven for whales, turtles and grey nurse sharks. A number of the beaches have off lead times, click here for more details on this from the local council. 
A couple of the standouts destinations for dog owners include the following off lead areas:
Boambee Beach: The beach extends from Corambirra Point (near the Deep Sea Fishing Club) to Boambee Creek (north of Sawtell). The beach is not patrolled though popular with fishermen, horse trainers, joggers, jet-ski riders, four wheel drive enthusiasts, and dogs are allowed on the beach off the leash.
Boambee Creek Reserve: Dogs are welcome on leash at this lovely reserve, which is an ideal destination for families, groups and anyone seeking a tranquil setting to relax. Enjoy the safe swimming, sandy beach, children's playground, shady trees and grassed areas with free barbecues. Estuary for paddling, paddle boards and fishing and a Solitary Island walking trail. There is a cafe on site and the shelters for hire (day reserve only) make it ideal for birthday parties, family get-togethers and club and community celebrations.
Coffs Creek and Harbour Loop: Coffs Creek is an oasis in the middle of Coffs Harbour and offers riders an easy escape from the CBD. The trail is a mix of road, bike path, dirt and boardwalks across sensitive wetland environments. The mangroves and birdlife are a highlight of this ride and the sense of remoteness is remarkable considering you are in a city.
If you continue to the coast, the sweeping vistas will convince you that this is one of the most beautiful regional centres in Australia.
The whole trail takes about 2 hours but it can be broken down into smaller loops for less experienced riders or for young families.
If you are taking your four legged friend with you, be sure to keep them on leash as the trail navigates through a variety of landscapes including wetlands with abundant wildlife, beaches, reserves and residential areas.
Click here for more information.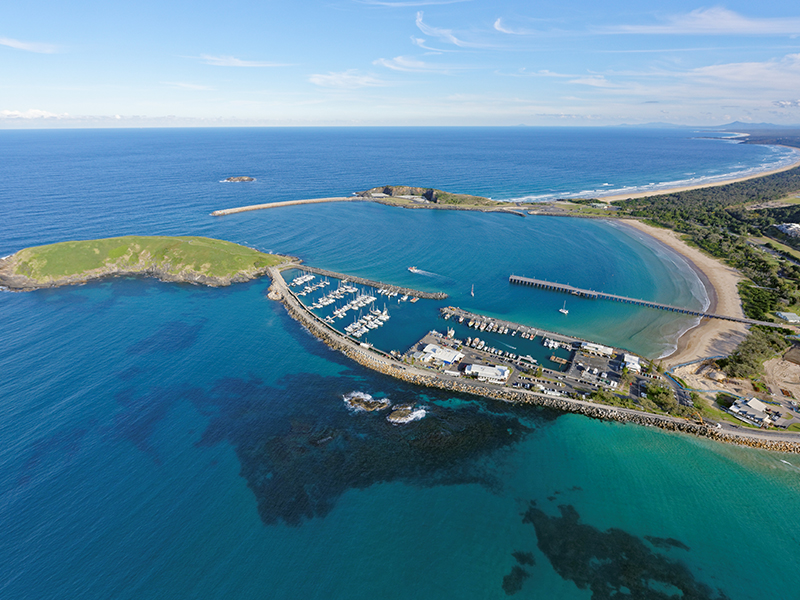 PORT MACQUARIE
Like all it's counterpart towns on the NSW North Coast, Port Macquarie has some outstanding and famous beaches, a lovely climate and caters for tourists all year round.
Other features include the Sea Acres National Park, adjacent to Shelly Beach, which contains the visitor centre with access controlled rainforest boardwalk.
The Hello Koalas Sculpture Trail is a unique and free attraction in Greater Port Macquarie, with over 60 one metre high koala sculptures, beautifully designed and hand painted by selected artists, dotted across the landscape.
The area is well catered with off leash dog areas including:
North Shore Beach: from northern end on Corrilla Estate North to Queens Head 4WD access point, and also from the southern end of Corrilla Estate South to the breakwall.
Lighthouse Beach: from Watonga Rocks south to the 4WD beach access point Lake Cathie.
Rainbow Beach: Bonny Hills, from Duchess Creek north to Middle Rock
Spooney's Bay, Bonny Hills.
Grants Beach: North Haven, from the northern end of the surf club car park, north to Grants Head.
Washhouse Beach: Dunbogan, from the breakwall to the boundary of the Katang Nature Reserve.
Dunbogan Beach: Dunbogan, from the Seaview beach access point south to Beach Street access point.
Henry Kendall Reserve: Laurieton, in the fenced dedicated dog park.
Click here for more information.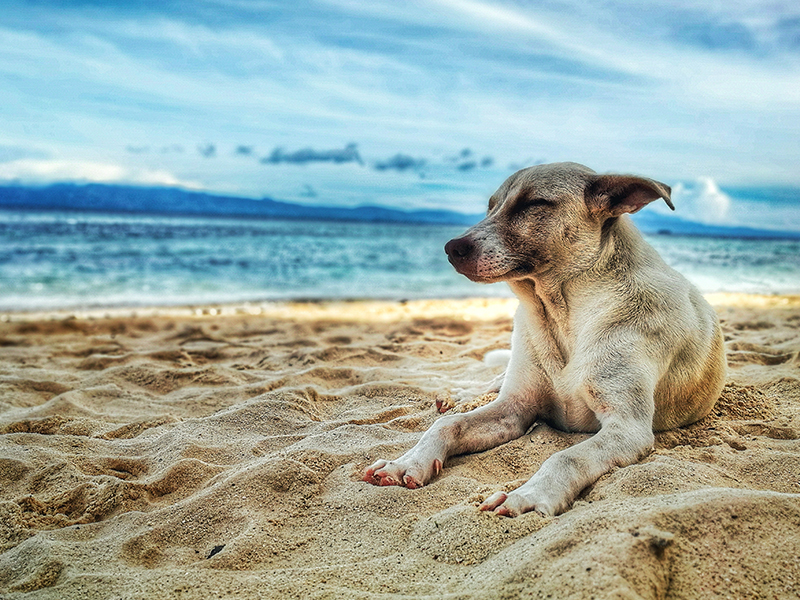 FORSTER/TUNCURRY
The twin towns of Forster and Tuncurry are found 300km north of Sydney, are popular holiday destinations year round.
Set amongst the beautiful Coopernook State Forest of NSW, this event takes in beautiful trails within the State Forests. Plus you'll be supporting local animal rescue organisation Sweet Pea Animal Rescue.
There are plenty of nice options for holiday makers at all times of year. Dogs are permitted on:
One Mile Beach at Forster between 5am-8am.
Blueys Beach at Pacific Palms between 5am-8am.
Boomerang Beaches at Pacific Palms between 5am-8am.
Nine Mile Beach at Tuncurry is leash free from from 3pm – 8am
There are also a number of beaches that are leash free the whole time. These include Hawkes Nest Beach (see image below), north of the 4WD access at the top of Sanderling Ave. Dogs must be kept on the beach and not allowed on vegetated areas or dunes.
Dogs kept on leashes are permitted onto those beaches which are subject to 4WD use, including Sandbar Beach and Nine Mile Beach, Tuncurry.
There are also leash free playing fields at Beach and North Streets, Tuncurry.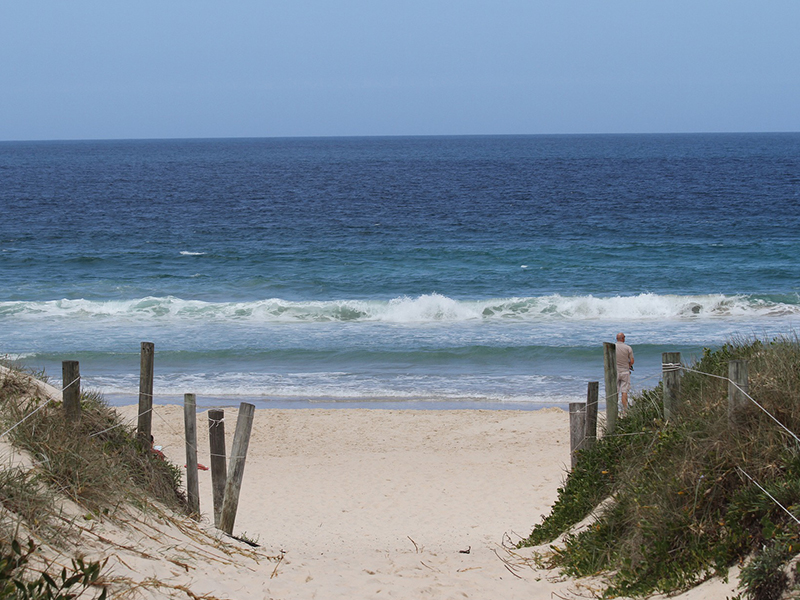 Jump onto Holidaying with Dogs now and secure yourself a memorable holiday in a beautiful part of Australia or search specifically for something on the North Coast of NSW.
Do you have a favourite dog walking spot in this area? We would love to hear all about it. Comment below.
You may also enjoy reading Holidaying with your dog that includes a handy packing checklist for your pets.
START SEARCHING FOR YOUR HOLIDAY >>