The perfect Australian holiday is packing up the car with the entire family, including the dog (of course), and driving a few hours to reach the perfect destination.
Holidaying with Dogs has a huge selection of pet-friendly properties all around Australia. Sadly our beautiful country is prone to bushfires during the warmer months, as we've all witnessed with the recent bushfire crisis.
We want to encourage travellers to educate themselves on how to prepare rather than avoid altogether. Our regional locations truly need our support, now more than ever. So, we've put together some useful tips around planning, packing and staying safe whilst you're away.
Planning your trip
Do your research about the area your travelling to and the route that you'll be taking. Is this area prone to bush fires, what is the road access like and are there multiple options for entering and exiting the destination.
Seek out any emergency warnings in the area you are travelling to and on the route that you will take to your destination.
Know the fire danger ratings.
If there are any warnings, please connect with the property manager so they can provide you with first-hand advice. During a fire crisis, communities will hold daily meetings in their town hall to keep locals informed. This could be invaluable information.
Keep an eye on the weather forecast.
Program the local ABC radio stations in the car to stay tuned while travelling.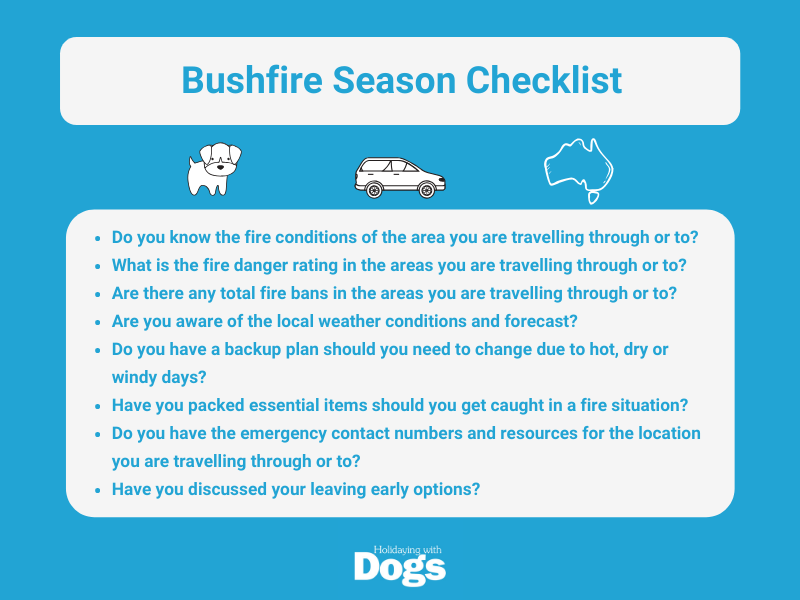 Packing for your trip
The Country Fire Authority (CFA) recommends that you pack some essential items before departing:
AM/FM portable radio
Spare batteries
First aid kit
Woollen blankets
Drinking water
Protective clothing (long-sleeved cotton tops, pants, hats, and sturdy shoes)
A map of the local area
Have the emergency service resources handy on your phone or written down. See below for the details in each State.
And of course, don't forget those additional items needed when holidaying with your dog. Download our Pet Packing Checklist HERE.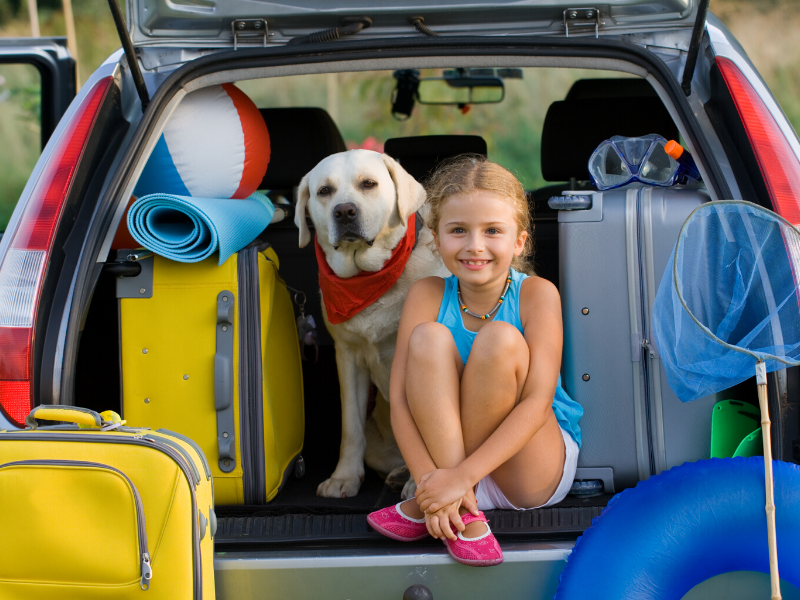 Emergency Services Departments by State
While you're away
Now that you've made it to your destination, it is important to continue to stay informed and aware of what is going on around you. You should:
Keep an eye on the weather forecast.
Know the fire danger ratings in your area.
Stay connected with your property manager and locals in the area. If there is a fire risk, visitors are encouraged to attend town meetings.
Leaving early is always the safest option. If you don't need to be there, then start making your way home.
If you are impacted by fires
Follow the guidance of emergency services.
Contact the property manager and/or the Holidaying with Dogs team. We will always endeavour to help you find a different location, move your dates to a later time or arrange a refund for your stay. Email us at info@holidayinwithdogs.com.au or call (03) 8300 7864.
Avoid any areas where bushfires are burning, which may mean taking a different route to or from your destination.
As stated earlier, leaving early is always the safest option. If you don't need to be there, then start making your way home.
Holidaying here this year is a practical way we can help. It's vital for bushfire affected communities. If you're able to travel we encourage you to support Australia's tourism industry by travelling in your own backyard. By using these guidelines you can enjoy a wonderful Holiday with your Dog and family.