Holidaying with Dogs has been following the journey of this humble dog treat business online for a few years now. Laila is such a cutie and we love seeing all the wonderful pups featured on their Instagram account. At the end of 2018 The Pledge against Rawhide pet products was launched. Like many dog owners, we were unaware of the dangers of Rawhide products and, as our dogs' safety is our number one concern, we wanted to find out more. We made contact with the owner, Mel, to find out more. This is her story.
What was the inspiration for your business, Laila and Me?
Laila and Me was created around 3 years ago when my little Frenchie pup (Laila) started to develop allergies and broke out in hives every few days.
My vet advised us to start a food elimination diet to ensure that the allergies weren't food related, so off I went to the pet shop to find some natural training treats to give her while we were eliminating 90% of her current diet. I was completely horrified to find that nothing was indeed natural; every product had additives such as salt, sugar and glycerine. Some products even had warnings on them that they had been irradiated in China and advising humans to wash their hands after feeding their Dog!
I wasn't going to let my much-loved pet eat something like that! Out of necessity comes opportunity and I decided to create my own healthy dog treats – starting with a single product protein, naturally dehydrated.
Months later we found out that Laila was in fact allergic to grass. We changed her diet to a raw food diet with healthy treats and wiped her down with a wet towel after grass contact. I'm pleased to report that we now have her allergies under control.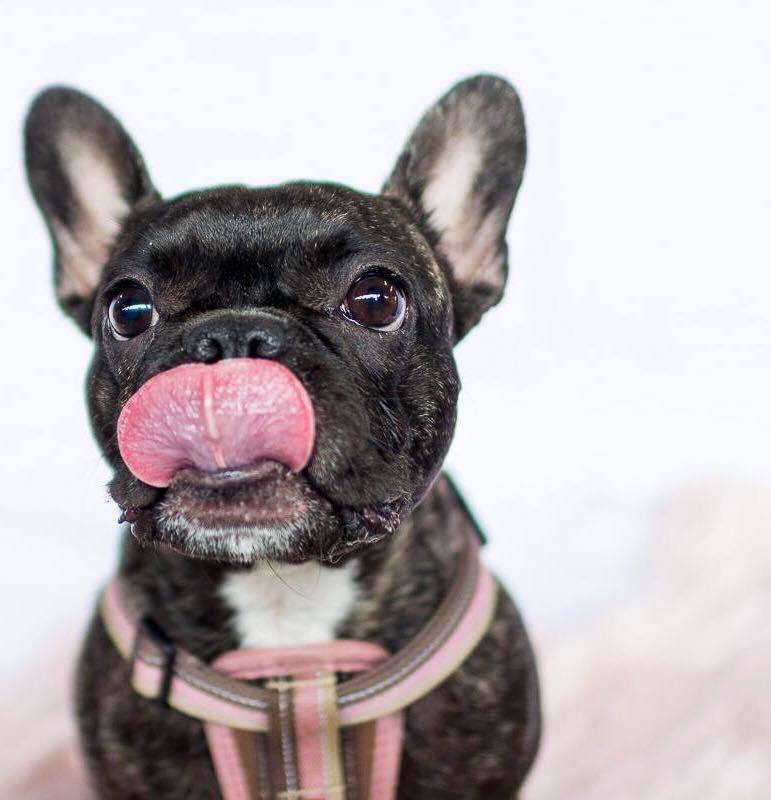 When did you discover the dangers of Rawhide products?
Laila was my first ever dog I owned as an adult. Growing up I was surrounded by animals, living on a hobby farm in central Victoria including dogs, cats, chickens and cows.
From a young age I have always been an animal lover so when I got Laila, naturally I wanted to spoil her, but I was always cautious of what I fed her, especially after she was diagnosed with allergies.
I spent many hours trawling Facebook groups searching for alternative treats and supplements. One day while I was researching, I came across this video by Rodney Habib called How to make rawhide. Intrigued, I pressed play.
I was gobsmacked. I couldn't believe this was legal and (naively) thought this situation must be confined to America. Sadly, it turned out that Australian pet stores were in fact selling the same chemically-treated rawhide products shown in the video.
What exactly is Rawhide and how is it made?
Rawhide – the nasty truth
Hides are stripped from the cow and soaked in chemicals to "preserve" the product during transport and prevent it going rancid/rotten enroute to the tannery
At the tannery, the hide is submersed in another chemical bath of ash-lye solution or a highly toxic recipe of sodium sulphide liming. This toxic solution disintegrates any hair or fat that may be left on the hide
Now it's time to make that hide shine so that it is more visually appealing to the dog owner. Hides are bleached and whitened using a solution of hydrogen peroxide and bleach to remove the smell of the rotten or putrid leather.
Independent testing of rawhides has shown they contain: Lead, Arsenic, Mercury, Chromium salts, Formaldehyde and other toxic chemicals.
Why did you decide to start The Pledge?
I asked fellow dog owners and it became apparent that people weren't aware of the risks associated with rawhide. Aside from the chemicals involved in its production Rawhide products are a choking hazard and can cause bowel obstructions and ultimately death if not picked up in time. I knew it was time to use my networks and social platform to educate dog owners on the risks as well as offer a natural alternative dental chew treat.
I set up an awareness campaign to educate dog owners on the dangers of rawhide, as well as offer them an incentive to buy a more healthy chew treat and put the call out on social media and my website asking dog owners to make an online pledge; to never give their dog rawhide, and if they received rawhide as a gift, to throw it in the bin.
What is the pledge?
I promise to join the #mydogsaysnotorawhide movement and raise awareness on why this treat is dangerous and needs to be banned in Australia.
I promise to do this by saving and sharing the below image on my social media platforms as well as the hashtag #mydogsaysnotorawhide and pledge to NEVER give my dog a rawhide treat and opt for a healthier and more nutritional treat.
What has the response been like so far?
So far, we have had an overwhelming response of 320 dog owners taking the pledge. That's 320 dogs that are now not eating rawhide. It's a great start, but we still have so far to go.
When you take a break from running the business and campaigning for dog safety, where do you go on holiday?
We love Portland, Victoria (near Warrnambool). Every year at Christmas the whole extended family go to a holiday house in Bridgewater Bay (20 minutes from Portland) it's a small-secluded beach town with one general store. It's a great place to take Laila as she loves the beach – she's a real water baby – but becomes really overwhelmed by lots of dogs.
What's your top tip for travelling with your dog?
The kurgo cat seat booster- Laila loves the car but if she can't see out the window she gets really restless. The trip to Portland is about 5 hours and she's happy in her booster seat. It's also a safe way to make sure she remains restrained in the car.
Mel's Top 5
Your coffee order: Almond latte, no sugar
Favourite dog walking spot: Yarra Bend, Melbourne
First thing you do in the morning: Get coffee and let Laila out for a toilet break! (Exciting I know!)
Favourite holiday destination (within Australia): Bridgewater Bay/Portland
Finish this sentence: I can't live without: My animals and fiancé (cliché I know, but they really are my favourite things in life, Saturday evenings all piled on the couch watching movies – so much love in this house!).
You can find out more about Laila and Me an take the pledge at https://lailaandme.com.au/pledge/ and join the movement online by following Laila and Me on Facebook and Instagram
Do you have questions or comments for Mel? Comment below.
START SEARCHING FOR YOUR HOLIDAY >>