We are often asked, "how much should I feed my dog?" Your pooch may be the teddy bear in your family. They are a cuddly, caring companion that adventure with you everywhere you go. But just because they are a figurative teddy bear in your life, doesn't mean they should look like one!
Dog Obesity Australia
Obesity in dogs is a real problem in Australia. Overfeeding is just so easy to do. Between the regular food and occasional treats, you also have table scraps. This is particularly an issue when you're travelling. It's just harder to maintain the same healthy feeding routine as you would at home. So what to do? We've come to help you understand dog obesity, how much to feed your best friend, and how to stay consistent when travelling. You may want to download our Pet Packing Checklist before you go too.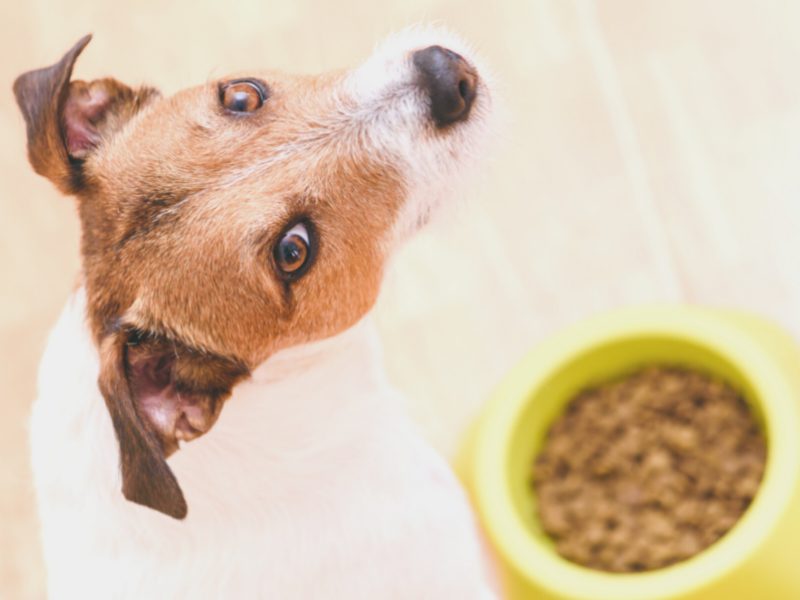 Is Your Dog Fat?
Before we begin, let's define some stuff. Obesity is a step beyond being overweight. It's natural for weight to fluctuate every now and again.
The pet version of BMI is BCS or Body Condition Scores. Most vets use a 9 point scale for this. For our purposes today, we want to draw your attention to the final 5 points on the scale.
5/9 Ideal weight – Ribs, backbone and pelvic bones are covered in a thin layer of fat but easy to feel. You can clearly see waistline and tummy tuck.
6/9 Overweight – Ribs, backbone and pelvic bones are covered in a thick layer of fat but you can still feel them. Tummy tuck is more slight. Waistline is more slight.
7/9 Heavy – Ribs, backbone and pelvic bones are covered in a heavy layer of fat. You need to apply pressure to feel them. Waistline and tummy tuck are hard to see.
8/9 Obese – Ribs, backbone and pelvic bones are covered in so much fat, you really need to dig in to feel them. They look like a sausage. No waistline or tummy tuck.
9/9 Severely obese – You can't feel your dog's backbone, ribs and pelvic bones at all – even if you really dig in. Tummy and waist protrude.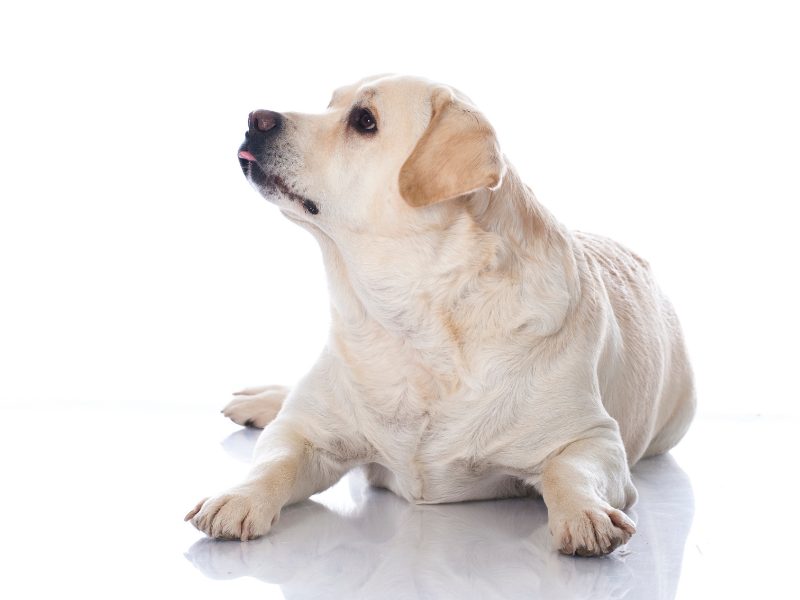 Dog Obesity Kills
The Pet Food Industry Association Australia is very clear about the dangers of obesity in dogs.
Carrying extra weight has dramatic effects on your pup's health such as:
Early-onset osteoarthritis
Higher risk of heart disease and other cardiovascular diseases
Higher risk of cancer
Mobility and joint issues
Direct link to diabetes
Adult reproductive and hormonal issues
Increased risk of pancreatic and liver diseases
How Can You Prevent Your Dog Getting Obese?
Obesity is luckily mostly a lifestyle issue. That means that if your dog is fat, it's likely your fault. Sorry to tell you the truth!
But just as you may have led to your dog's obesity, you can be the captain that turns the ship around. Get your dog checked by a vet regularly to make sure they are at a healthy weight. Your vet will flag any concerns they have.
Get your dog checked by a vet regularly to make sure they are at a healthy weight. Your vet will flag any concerns they have.
Make sure your dog is getting regular exercise. Even if they are naturally sedentary or lazy, they still need walks to keep the weight off!
When travelling, plan out your dog's meals ahead of time so that their routine isn't too disrupted. Make sure you pack enough food from home to last them the entire trip. It'll set your dog back if you have to feed them human food a couple of nights because of a lack of planning.
Feed your dog the appropriate amount of food
How Much Should You Feed Your Dog?
We believe in balance above all else. Each dog is unique and shouldn't be squeezed into a box.
How much your dog should eat depends on its age, gender, and breed.
As a general rule of thumb: ⅓ cup dry food per day per 5 kilos of bodyweight.
There are nuances to this, of course. If your dog is a competitive show jumper, they likely need a higher calorie-dense diet to fuel their active lifestyle. Likewise, puppies expend a lot of energy and require small, frequent meals throughout the day.
Here is a daily dry food guide you can follow:
5kg small dogs need ~¾ cup/340 calories
15kg medium dogs need ~1 ¾ cups/780 calories
30kg large dogs need ~3 ½ cups/1300 calories
40kg+ giant dogs need ~4 to 4 ½ cups/1800 calories
Please note: Always consult a professional vet who knows your dog well. They can give you tailored advice on how much your dog should eat and what they should be eating.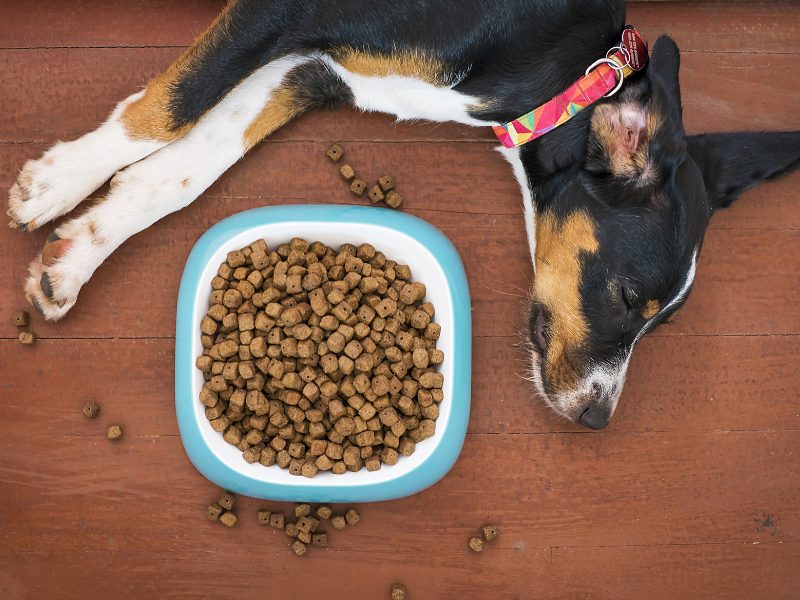 Healthy Pups Come From Responsible Owners
Don't be that owner at the dog park with the impossibly fat dog. A happy and healthy pup comes from staying in tune with your dog's needs and planning ahead with their meals. Whether on the go or at home, you can maintain an active, healthy lifestyle for your pup!
Taking your dog on holiday is a great way to get them active. Visit www.holidayingwithdogs.com.au and start planning your next trip.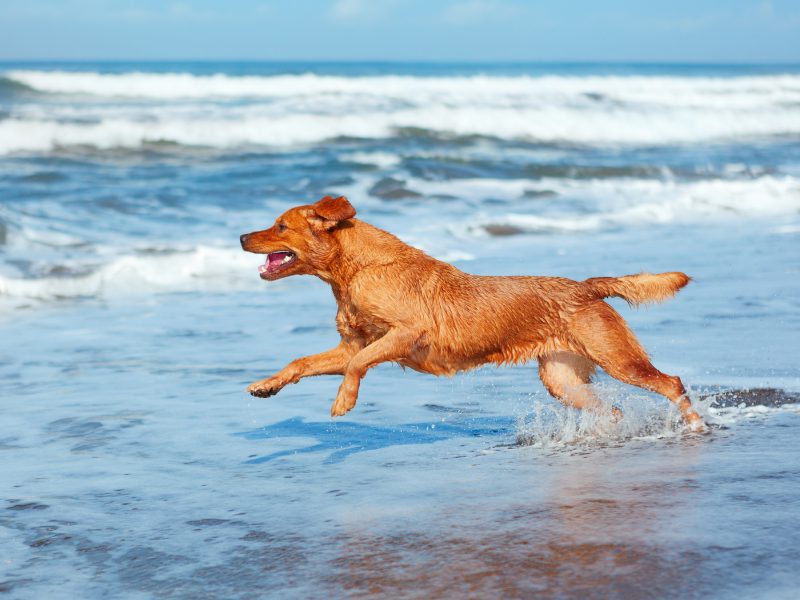 We'd love to hear your stories if you've battled with dog obesity and now have a healthy, happy, and active pup. Tell us in the comments below.
---