Easter is a family favourite for all ages, but sometimes not for your special pooch. Chocolate can be quite toxic to dogs. It is important to keep your dog safe and away from temptations.
We've come up with some great activities to keep your paw-some friend safe, involved and entertained.
Create a special doggie Easter hunt
Dogs love to sniff, so set up their own little hunt with their dry food or a favourite treat. You can hide treats in the garden, sprinkle them on the grass, or use a snuffle mat if you don't have a large space. Here are some great ideas and products your dog might like.
Doggy Topia – Snuffle Mats: Starting at around $35 this Australian company has a range of different sizes and colours to keep your pooch entertained.
Esty – Snuffle Mats: There is a range of different mats that can be purchased through Etsy from all over the world.
Kong has long been the leading toy to keep your dog entertained. PetStock has a great selection of Kong products.
Fill a kids paddle pool with colourful balls and let your dog rummage through to find the treats.
Hide treats in a range of empty boxes. Your dog will spend ages snuffling through each box to find their treats. It will probably make a big mess, but they'll be so happy!
Give them a favourite treat
Is there a particular treat that you save for special occassions? Easter is definitely a time to crack the out. Some of our favourites are:
To dress up or not to dress up?
You know your dog better than anyone else. Some dogs love getting dressed up. Depending on the weather, sometimes they need extra protection. Other dogs really don't like it. Just remember to put your dogs feelings and well-being ahead of the perfect outfit and that perfect instagram photo!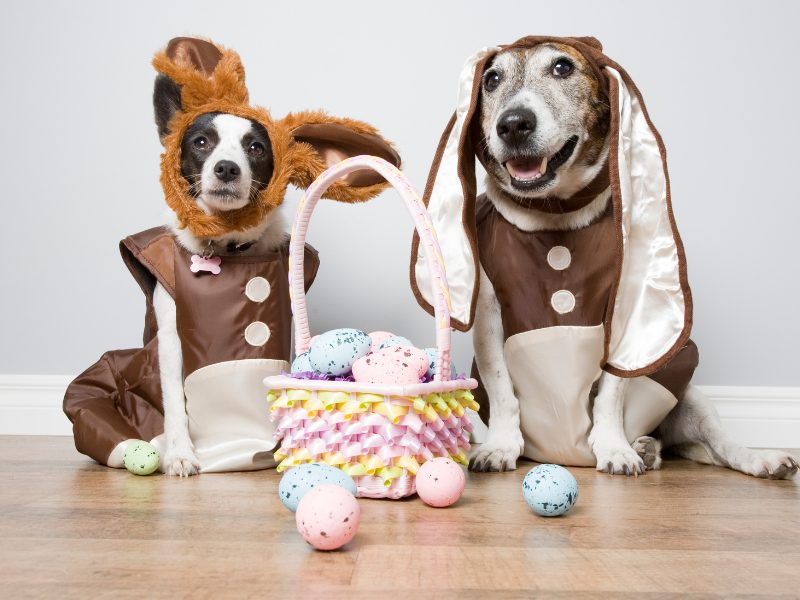 Go on a new walk or hike
Getting out and about over the Easter weekend is not only great for your dog, but it is a fantastic way to keep the overindulgence at bay.
Try a new walk in your area. Having something new to sniff and explore is like heaven to your dog. There are some great dog walking resources available. Some of our favourites are:
AllTrails has trails, maps, and hiking information for walks all over Australia and the world. Download their app and filter your search to only include dog-friendly walks.
Hiking with Dogs Melbourne has a group on Facebook. This has a like-minded community that shares their love of getting out and about with their dogs.
Holiday with your dog
Of course, go on a holiday with your dog. There is nothing better for the soul than having your best four legged friend by your side on a relaxing weekend away.
Head to www.holidayingwithdogs.com.au to find the perfect pet-friendly spot to enjoy your Easter weekend.
---
Have you had any wonderful adventures with your dog over Easter? Or invented a game that they absolutely love. We'd love to find out more, so comment below and share your stories.