About the Peninsula
The Mornington Peninsula is located in Victoria, 1.5 hours south of Melbourne and forms the eastern arm of Port Phillip Bay. It is peppered with beautiful beaches, wineries and national parks and is a popular holiday destination for Melbournians.
We took a day trip to the area recently to see what's on offer for those travelling with dogs and to visit some of the pet-friendly accommodation options on offer.
Pet-Friendly Accommodation in Mornington Peninsula
Whilst in the Mornington Peninsula we took a tour inside 3 beautify pet-friendly holiday accommodation options. All properties are fenced, and all allow your pets to stay indoors.
Ocean Blue Coastal Retreats – Happy Valley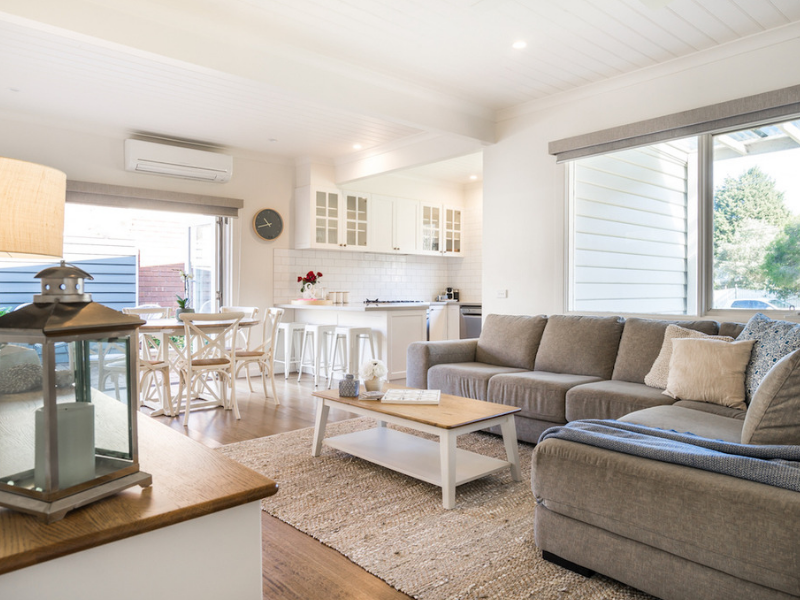 This 3-bedroom holiday house has a relaxed and intimate feel with a contemporary coastal vibe. Situated only 15 mins walk to the beach, the property is ideal for getting away from the big smoke and reconnecting with family or friends. Outside you'll find a fabulous entertaining area and fully-enclosed yard to keep the dogs and kids secure. Suitable for up to 7 guests and 3 dogs. FIND OUT MORE >>
Blue Moon Cottages – Sandpiper
The Sandpiper is one of two beautifully decorated holiday rentals situated 250m from Rye's Bay Beach. This character-filled cottage is decorated with a subtle classic neutral theme and is suitable for a couple or family with an infant. It has an outdoor courtyard and BBQ area which is fully fenced. FIND OUT MORE >>
Blue Moon Cottages – Shell Croft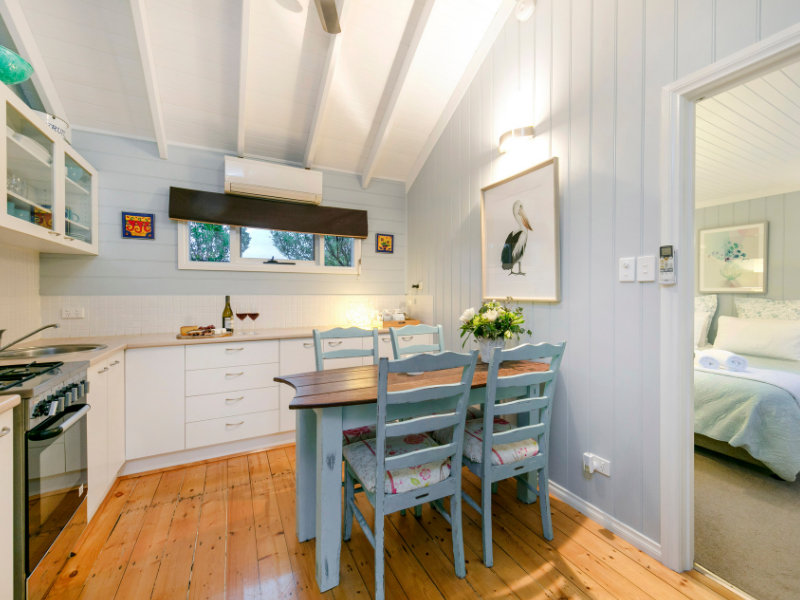 Like its sister property, The Sandpiper (above), this 2-bedroom weatherboard cottage is located a mere 250m from the beach. This beautifully-appointed holiday rental is large enough to comfortably accommodate a small family or two couples and has a large outdoor BBQ/entertaining area that allows guests to make the most of warm summer evenings. FIND OUT MORE >>
More Accommodation Options on the Mornington Peninsula
The Holidaying with Dogs website has a large number of accommodation options on the Mornington Peninsula.
Pet-Friendly Attractions on the Mornington Peninsula
Sarah and Buster visited the following dog-friendly attractions whilst in the area.
Green Olive Estate at Red Hill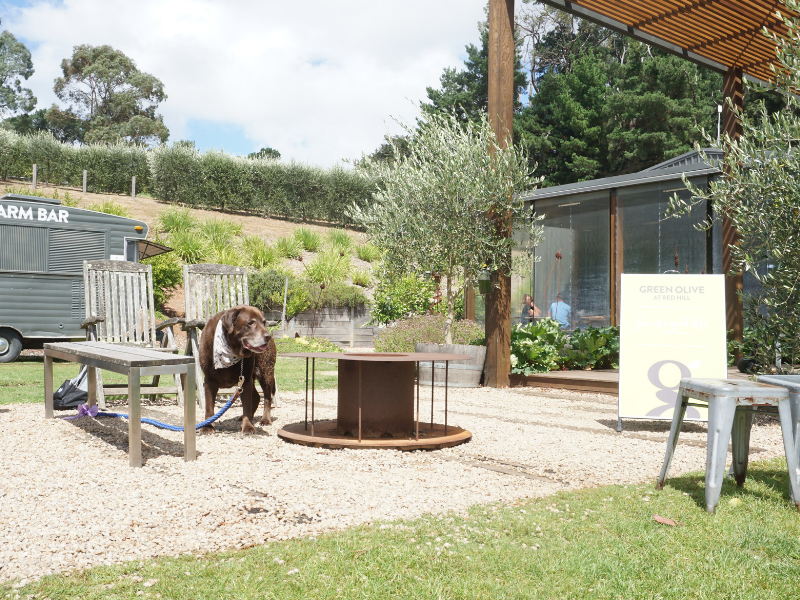 Originally an olive farm, Green Olive Estate now specialises in wine as well as gastronomic delights. This dog- and kid-friendly location provides an experience that can be enjoyed by the entire family. Situated on a 27-acre farm, the estate grows their own fresh produce and raises chickens and sheep – all of which are served in the Green Olive restaurant along with a range of goodies from local producers. Open every day for tapas, lunch and wine. FIND OUT MORE >>
Rye Front Beach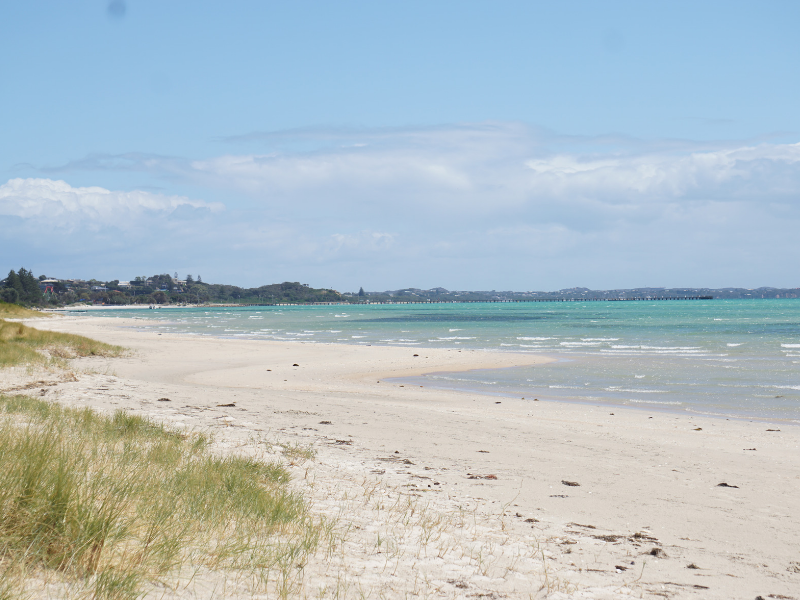 Rye front beach is a huge stretch of beach on the Mornington Peninsula located between Blairgowrie and Tootgarook. Dogs are permitted off lead in the stretch between Daly Avenue and Shirlow Avenue from 7pm to 9am during daylight savings time and at all times outside of daylight savings time.
Saftey Beach Dog Beach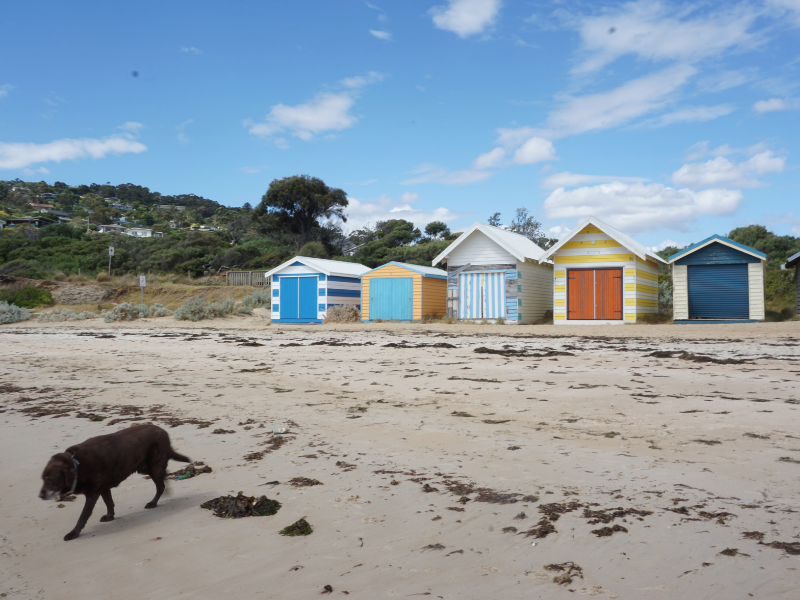 Safety beach is secluded spot that is off-lead all year round. Located at the northern end of Safety beach, it is accessed via Bruce Road, then on to Marine Drive over a small bridge.
Cornered by cliffs at one end this stretch of beach is popular all year round and is recognisable by its famous colourful Beach Boxes. A favourite spot for the entire family to spend their summer days.
If time allows, 2-hour dog-friendly walk is a must – popular with both locals and holiday makers, this easy-going walk offers spectacular views of Safety Beach's calm coastal scenery.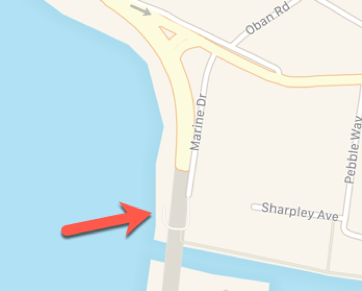 Leash-free Beaches on the Mornington Peninsula (All Year):
Royal Beach, Mornington
Fosters Beach, Mornington
Hawker Beach, Mt. Martha
Tassells Cove, Safety Beach
Flinders Beach, Flinders
Somers Beach, Somers
For more information about dog-friendly and leash-free beaches, visit the Mornington Peninsula Shire website
Summary of the Mornington Peninsula
Overall, we had a fabulous day visiting the Peninsula. While we were limited time-wise, we were still able to enjoy a fun day of sight-seeing and property viewings. It was easy to get around with short drives between attractions.
For those based in Melbourne, the Mornington Peninsula offers an easily-accessible weekend away that can be enjoyed any time of year. If you are travelling interstate, we recommend allowing 3 or more days to take in the sights.
We are looking forward to our next pet-friendly holiday in this region.
Have you visited the Mornington Peninsula with your dog? We would love to hear about your favourite pet-friendly beaches and activities in the area, please share in the comments below.