Located at the foothills of the Great Dividing Range and just over 1 hour from Melbourne, Daylesford Victoria is the perfect spot to relax and rejuvenate. It has long been known as a couples escape but really is so much more.
The Spa Country region includes Daylesford, Hepburn Springs and the Macedon Ranges.
We (Hazel and I) made the most of the beautiful outdoors by taking long walks, despite the wintery weather, enjoying local food and drinks and of course, checking out the pet-friendly properties.
View our full Video Diary of the visit.
Pet-friendly Accommodation in Daylesford
The Raglan
The Raglan is the cutest little cottage located a short walk from Vincent Street. It accommodates up to 6 guests and 2 dogs (inside of course). From the kitchen, the french doors lead out to a lovely fully fenced garden with an outdoor seating area to enjoy in the warmer months. The Raglan is overflowing with old world country Daylesford charm.
Jesmondene
Jesmondene has a view that is to die for! The house is pretty good too.
There are two living spaces and can accommodate 8 guests and 4 dogs. If you are travelling with two families, this layout is particularly appealing. The grown ups can enjoy the front of the house while the kids and dogs make the most of the back. The centre of town is within walking distance, as is Lake Daylesford.
Abelia Cottage Lakeside
Abelia Cottage, Lakeview is perfect if you're travelling on a budget but still want your usual home comforts. Cosy and warm in winter and cool in the height of summer. Situated across the road from Lake Daylesford and a short walk from town, Lakeview can accommodate 8 guests and 4 dogs.
More Accommodation Options in Daylesford
The Holidaying with Dogs website has a large number of accommodation options in Daylesford.
Pet-Friendly Attractions in Daylesford
Wombat Hill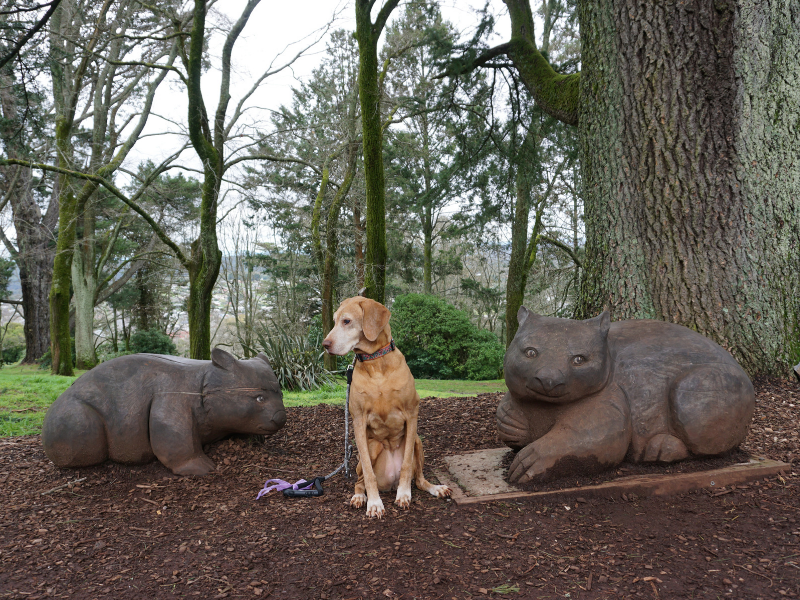 The Wombat Hill Botanical Gardens are located in the centre of Daylesford. It's a beautiful but steep hill walk from town, or you can drive to the top and stroll through the gardens. Hazel and I took the easy option and drove.
Located at the top is the Wombat Hill House Café and Kitchen Garden. You can enjoy something to eat and drink in the garden area with your dog or, grab a takeaway coffee to enjoy while exploring. There are plenty of delicious options to choose from on their seasonal and local sourced menu. 
Lake Daylesford Walk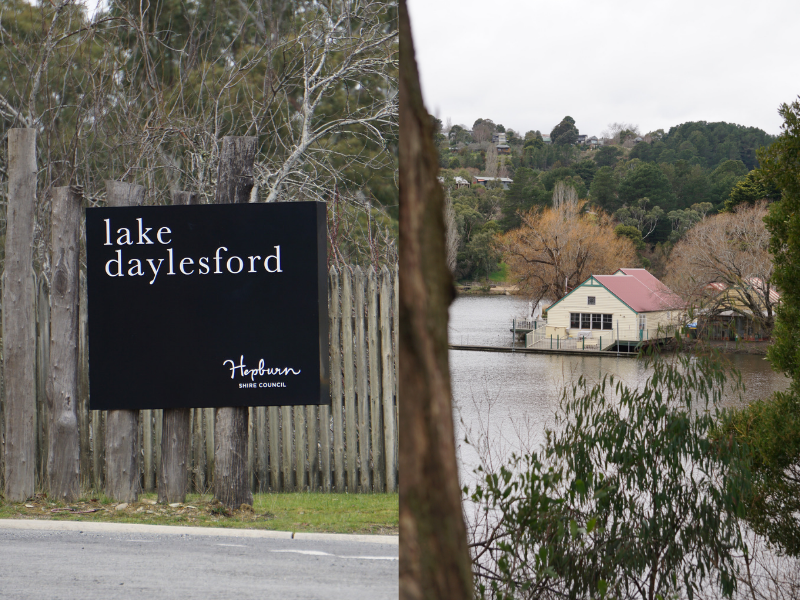 You can't really go to Daylesford without at least taking a look at Lake Daylesford. We did one better and enjoyed the walk around it. It is an easy 2.8 km walk for all fitness levels, even for our older pooches. Download a local walking map here.
People Friendly Attractions in Daylesford
We know it's all about your dogs while on holiday, but even humans need sustenance at some point. The good news is there are plenty of people friendly things to do in and around Daylesford where dogs are welcome.
Pet-Friendly Accommodation in Spa Country and the Macedon Ranges
The Farm, Clydesdale
Our second night in the area was spent at The Farm in Clydesdale. This is a newly listed property which didn't disappoint. It is set on 50 acres, so plenty of room to explore. Hazel had a wonderful time sniffing around.
There is a fantastic play area for kids including a cubby house, swings, monkey bars and a trampoline. In the warmer weather you can sit out on the deck and enjoy watching the sunset. During the colder months, sit around the firepit and toast marshmallows.
Finlie
The Finlie is positioned high on a hill overlooking Hepburn Springs. It's sweeping verandah is a perfect spot to sit and enjoy the surrounding bush.
Downstairs the open plan layout offers a fully equiped kitchen, lounge area and dining room table with an open fire and cooling. There's also a dedicated spa room.
The vibrant village of Hepburn Springs is just a short drive away, offering cafes, restaurants and the iconic Hepburn Bathhouse and Spa.
More Accommodation Options in Spa Country and Surrounds
The Holidaying with Dogs website has a large number of accommodation options in and around Spa Country and the Macedon Ranges.
Pet-Friendly Activities in and around Spa Country and the Macedon Ranges
The area surrounding Daylesford is known as Spa Country and the Macedon Ranges. There is much to do while exploring this area with your dog.
Summary of Daylesford and the Macedon Ranges
What a wonderful trip. Not only is Daylesford easily accessible from Melbourne by car, the countryside is stunning and varied all times of the year.
The local community welcomes you and your dog with plenty of activities for all types of holiday makers.
It is not our first trip to Daylesford and it certainly won't be our last.
If you've visited Daylesford and have more pet-friendly tips to share, please tell us about them below.