Going to Sydney with your dog? Want to hit the beach? Here we provide a comprehensive list of all the great dog-friendly beaches and beachside reserves for you and your fuzzy friend. Some are off lead at all times, or at restricted times, and some are on lead at all times. If your dog is fearful of other dogs, or aggressive, or just impossible to recall (we've all experienced it) head to the on lead beaches for less stress. They're still just as beautiful.
Visiting Dog-Friendly Beaches
In Sydney beach access for dogs and their humans is quite limited, so the following list should set you up for a great day out. Weekends can get busy, and parking difficult (and sometimes not free), so plan ahead. Paths to beaches may require your dog to be on lead until you reach the sand; this will be signposted so you should have no trouble.
Some of the things to take with you and consider before your trip are:
Take water and a portable bowl for your pooch
Dog poop bags so you can pick up after your dog
A towel to dry them off before they get back into the car
Treats at the ready if you need to recall your dog.
If your dog is rambunctious off lead please be respectful of dogs on lead and also humans, particularly children and the elderly. It's best to have your lead ready in case of trouble.
But most of all have fun! Get your fur wet! Dogs love beaches: running in the sand, paddling in the shallows. Beaches are fabulous places to socialise your dogs, and healthy for humans too. Get the sand between your toes and the wind in your hair, and throw that ball.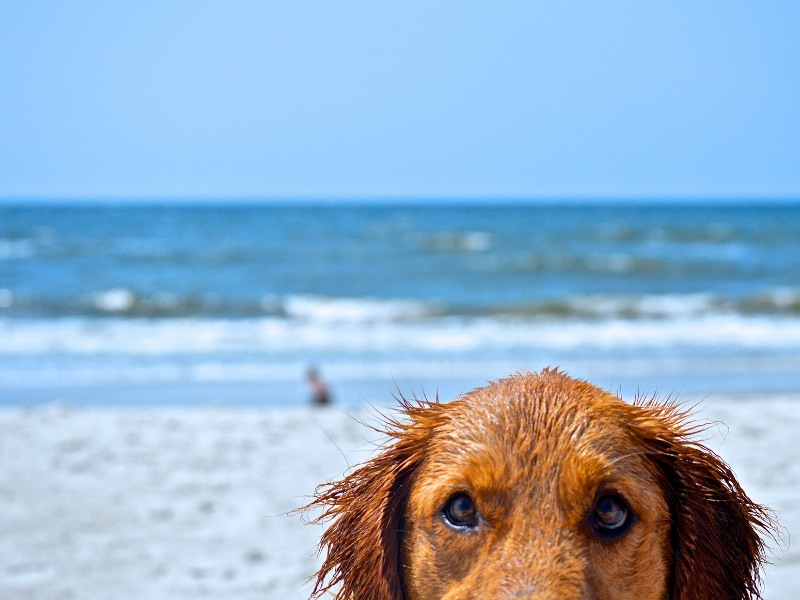 Rushcutters Bay
A great place to start your Sydney dog-friendly beach experience is around Rushcutters Bay. If you're staying in the Woollahra or Paddington area it is a short drive to a region of remarkable history, stunning buildings, significant trees, and … most important … reserves and beaches to run your hound ragged.
Check out two of our pet-friendly properties in this area, or search all of Sydney for pet-friendly accommodation.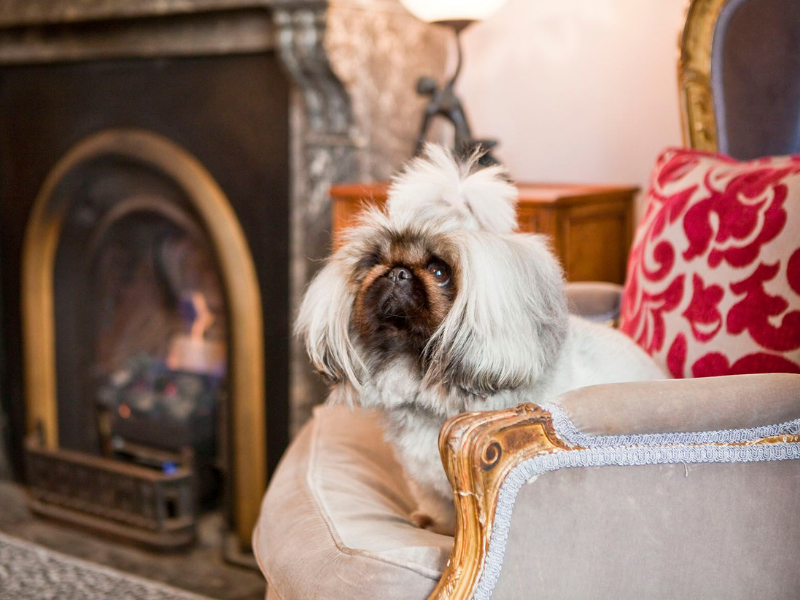 The Hughenden, Wollahra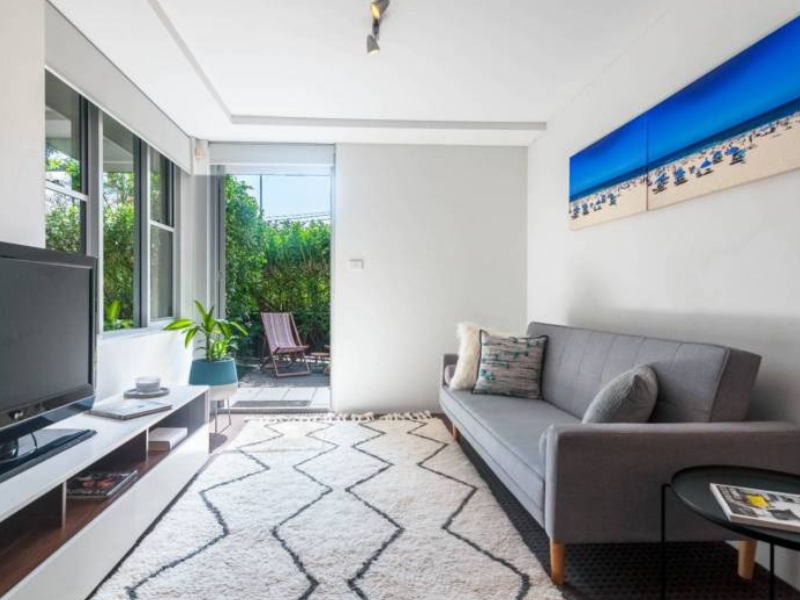 Fully Furnished 1 Bedroom Apartment, Paddington
---
Beare Park, Elizabeth Bay
Beare Park in Elizabeth Bay is a stunning harbourside location where dogs can run off lead after 4.30pm and before 9.30am. The playground is off limits. A place of great historical interest, details of which can be found at the City of Sydney website.
Yarranabbe Park, Darling Point
Yarranabbe Park has fabulous views and a foreshore walkway make this a great spot for doggy fun. Best of all it is off leash at all times. Nearby Rushcutters Bay Park is a large grassed park for sport, picnics, jogging and long, enjoyable walks with your dog. On lead during the hours of 10.30am and 3.30pm; go wild outside these times. Named after the rushes cut by convicts for roof thatching, it was originally called Blackburn Cove.
Rose Bay
Head to Rose Bay to the picturesque Dumaresq Reserve. Tidal sand is accessible at low tide, and dogs can run off lead between 4.30pm and 8.30am. Dumaresq Reserve is adjacent to the
Rose Bay foreshore and beach, which has all that your pooch is asking for – a long beach, best at low tide, with shallow water and off lead at all times. Swimming may be hazardous to your health, however. After the fun, recover at the nearby Golden Sheaf pub in Double Bay, with a shaded outdoor dog-friendly environment that includes a doggy menu. Relax.
If your dog prefers to be on lead go to the small, beautiful Rose Bay Park. A white sandy beach, it's great for swimming, or, you know, getting married.
Beach Paddock, Vaucluse
If your dog enjoys a more chilled out experience take a picnic rug and a book to Beach Paddock, Vaucluse. On lead at all times, you can wade in the water and walk in Vaucluse Park before taking in the serenity amongst the trees. While in Vaucluse, if you can find Kutti Beach it is one of the best and least-known dog friendly beaches around Sydney. Wander by stately houses to find a white picket fence next to a narrow (very!) wooden staircase, your access to this little piece of paradise. You won't be alone, but the people and dogs are so friendly it's a fantastic place to seek out.
Gibson's Beach, Watsons Bay
Gibson's Beach at Watsons Bay has pretty views of the city and bridge, and gentle waters for a splash with your dog. It's a small harbour beach adjacent to a reserve, within walking distance of Watsons Bay Baths and Tea Gardens, and the starting point for coastal walks north and south for views of the Pacific Ocean and historic lighthouses (including Australia's oldest).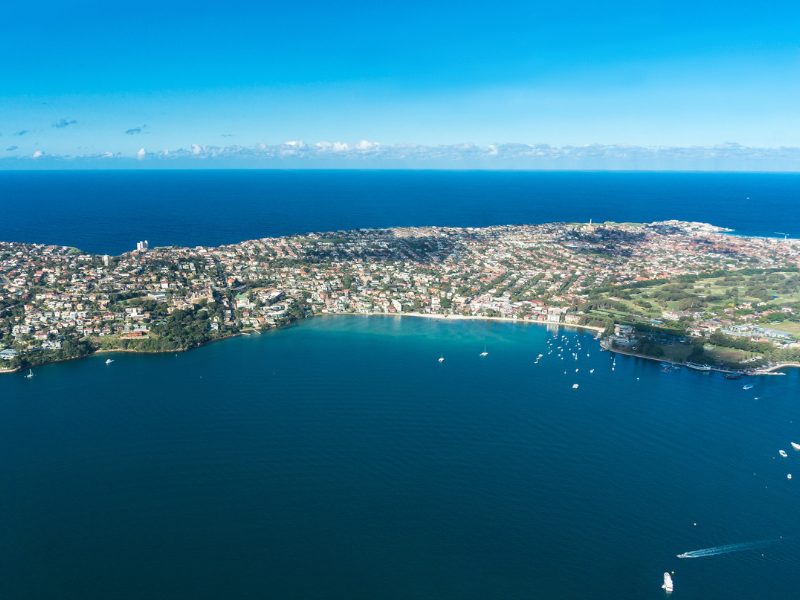 If you're heading a little way south be aware that dogs are not allowed at any time on Bondi Beach, but just beyond is Marks Park at Tamarama. No beach access but spectacular views of Bondi, and an opportunity for an off leash run between 4.30pm and 8.30am. At other times dogs are always welcome on lead.
Other Dog-Friendly Beaches and Parks
Lady Martins Beach at Felix Bay, Point Piper: A narrow lane takes you to the sand and views of the harbour. This is a great spot if you and your pup prefer to stay on lead and away from the crowds.
Steyne Park, Double Bay: Sports, picnics, kayaks and a boat ramp make it great for people watching.
Bicentennial Park, Glebe: has a 24 hour off lead dog beach west of the canal for romping and swimming, and provides access to the Glebe Foreshore Walk. Blackwattle Bay Park is a short walk, and provides more off lead fun on a small beach.
Fairlight Beach, Manly: for a magical parade, then walk to the best tidal swimming pool in Sydney. Fairy penguins! Also in Manly is Manly Lagoon for off leash running and swimming at all times. Humans may want to avoid the water though. The water borders Manly Lagoon Park and Aitkin and Hinkler Reserves to run off lead with abandon.
Sirius Cove, Mosman: Off lead Monday to Friday, and at restricted times on weekends and public holidays, it is a charming, peaceful cove surrounded by a sandstone wall. Historical fact: HMS Sirius was the flagship of the First Fleet. While in Mosman, Spit West and Spit East Reserve provide off lead access at all times (East) and at all times except Saturday between 8.30am and 2.30pm (West). All day off lead access continues once you hit the beach and water from Monday to Friday, but is restricted on weekends and public holidays. A great place to romp, play and chase other dogs.
Cronulla
For a great ocean beach experience you can't beat Greenhills Beach at Cronulla. This stunning location is Sydney's only off lead ocean beach. Dogs are allowed off lead after 4pm and before 10am, but be aware that dogs are prohibited on the beach at all other times, even on lead. If going after 4pm keep your dog on lead through Wanda Reserve until you reach the sands of Greenhills.
While in the area, take the ferry from Cronulla (it allows dogs!) to Hordens Beach in Bundeena. West of the ferry wharf, the beach has unrestricted off lead access at all times between May and August. From September to April dogs must be kept on lead between 8.30am and 4.30pm. It's a lovely, curving beach which is popular and provides a good day out.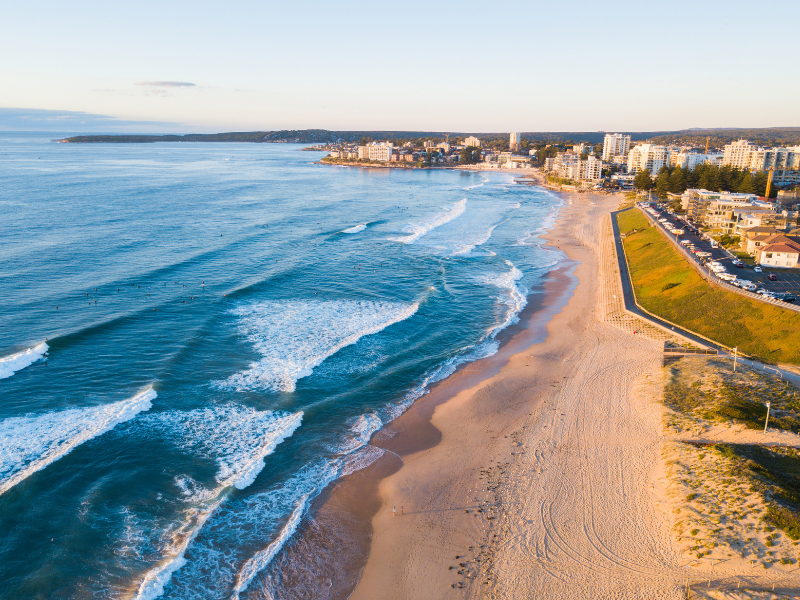 Sydney's coastline is fascinating, so it's worth a drive to Kurnell, the site of Captain Cook's first landing while navigating the East Coast in 1770. He made contact with the Gweagal indigenous people, unsuccessfully, and recommended the area for inhabitation. Now a National Park, it includes Silver Beach, which provides off lead beach fun between the third and fourth rock groynes at the western end, by the Bonna Point Reserve. Dogs can splash in the water with a view of Botany Bay.
Northern Beaches
Heading to the northern beaches, dogs are not allowed on North Curl Curl Beach but there is an off lead area behind the dunes at Adam Street Reserve for dogs to have a run. However the Flora and Richie Roberts Reserve in Curl Curl is doggy heaven. Off lead at all times, there are grass dunes to explore where the lagoon meets the sea. It's a huge area for dogs to play, but not recommended after rain due to pollution.
Further north is one of the best dog beaches in the state. Rowland Reserve in Bayview offers a large grassy area leading to a beautiful beach with the water welcoming your dog (and you) to swim. 
Summary
That's all about the dogs, but what about the humans? With it's incredible coastline, a natural marvel, the beaches, pools and sandstone cliffs are best appreciated along the network of cliff walks Sydney provides. From Barrenjoey Lighthouse at Palm Beach to Cronulla there is an uninterrupted walking trail along the coastline. Pick a portion of the track to experience the East Coast meeting the Pacific Ocean. An 80km walk also takes you from Bondi to Manly. Find a shorter walking track along it to take your dog for a hike. Remember though, your dog's endurance may not be equal to your own.
Sydney is a spectacular city, world-renowned for the beauty of its harbour and oceans, so if you're on holiday with your dog the beaches, reserves and trails are a wonderful way to experience it. Sun, cloud, rain, wind, searing heat, bitter chill – there's always the sand and the water. Woof.
Tell us about some of your favourite dog-friendly haunts in Sydney?