Have you ever been leaning in to give your dog a cuddle and been met with bad breath? This could be a sign of dental disease.
It is very common in dogs over 3 years old. Identifying and treating dental disease is very important for the overall health of your dog, and may save you money in the long term.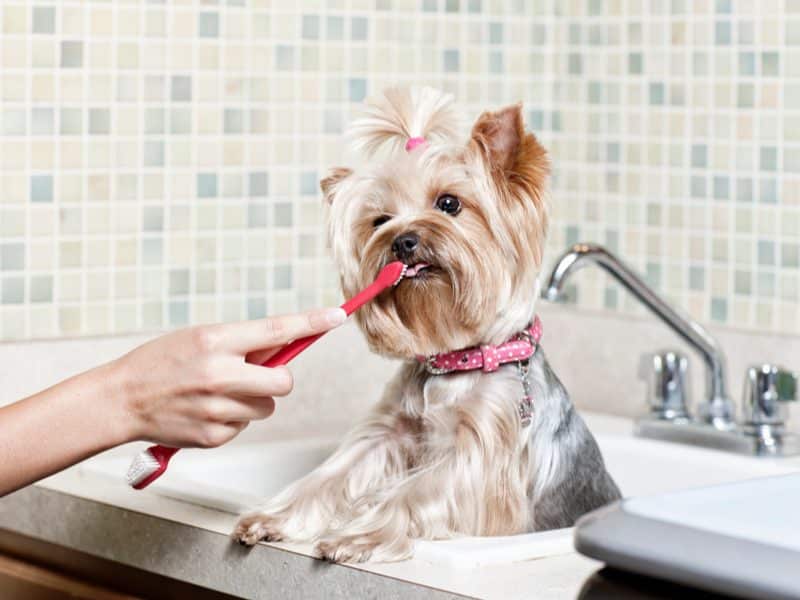 What is dental disease?
Dental disease is one of the most common medical conditions seen by vets. It is caused by plaque that sticks to the tooth's surface and will calcify into tartar, just like ours. The only difference is, dogs can't brush their own teeth.
This is why, as owners, we need to know what to look for to make sure our dogs have good dental health.
Signs of poor dental health
Some of the key things you can look for are:
Bad breath
Discoloured teeth
Loose teeth
Excessive drooling or bloodstained gums
Dropping food from their mouth while eating, or having trouble chewing
Pain when handled around the head
Facial swelling
Behavioral changes (eg tiredness or aggression)
Pawing at the mouth
How to care for your dog's teeth
A few tips you can do at home, before visiting the vet are:
Bushing teeth every day
Healthy chews: Greenies are a great dental chew option
A fresh diet: dry food can cause more buildup
Dog togs: some toys are perfect for scraping plaque for your dog's dental health
Monitor bone chewing: Greencross Vets have some great notes on bones for your dog.
Brushing your dog's teeth
You can't just start brushing your dog's teeth one day. You will need to build up to it so they can become familiar with the process. Here are some steps you can take to ease them into it. You may need to do it over multiple days, only moving on when you feel your dog is comfortable with each new step.
Get your dog comfortable with touching their mouth and opening it with your hands
Massage your dog's face and gums with your hands
Move on to touch each of your dog's teeth
Wrap something like gauze around your finger and rub each tooth
Work up to using a soft toothbrush
There are dog-friendly toothpaste you can get from your local pet store. NB: do not use human toothpaste on your dog.
Other dog dental health products and services
If cleaning your own dog's teeth isn't practical, or you are looking at other services, here are some other options.
---
If the symptoms remain, then consult your vet to discuss options to ensure your dog's dental health.
We welcome your comments about your experience with your own dog in the comment section below.