The thought of having to kennel your fur baby while embarking on a bliss filled break can get your holiday off on the wrong foot. Dogs benefit from a change of surroundings too: excited by the smells, sights and textures of a new landscape. Fortunately, the recognition of animals as valued family members is becoming more accepted in the wider community and has inspired the prevalence of dog-friendly holiday digs.
Pet friendly caravan parks are now nationwide and also a cost effective consideration when holidaying with your dog. It's hard to beat the space, the proximity to nature, the fresh air and access to canine compatible activities. We vet dog friendly campsites to make your choice easy, because we believe the family that stays together, plays together.
It's always important to remember these are shared spaces, possibly with other holidaying animals so always control your dog and familiarise yourself with specific pet requirements.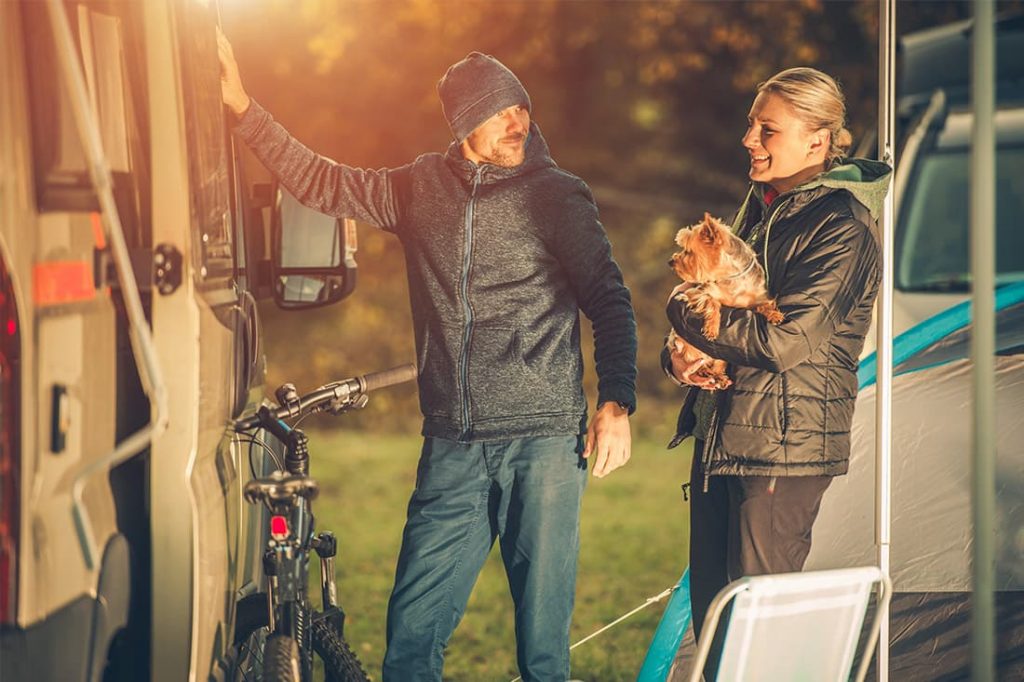 Pet Friendly Caravan Parks in Sydney and NSW
Whether you're chasing the hustle and bustle of Sydney Town or the vibrancy of Byron Bay, NSW caters to several canine getaways. There are idyllic pet friendly caravan sites that understand the needs of you and your dogs. From dog parks, to walking tracks and off-leash beaches, your pup will have the holiday of a lifetime.
We like…
Pet Friendly Caravan Parks in Melbourne and VIC
For all you culture vultures, Melbourne is café central and puppuccinos are now on the menu too. Maybe you begin with a glorious stroll in the gardens of the garden state then head to the breathtaking Victorian coastline? There is an excellent selection of pet friendly caravan parks and campsites that cater to your canine. They can even accompany you on the ferry between Queenscliff and Sorrento.
Take a look at…
Pet Friendly Caravan Parks in Brisbane and QLD
If you and your pup are the outdoorsy types, Queensland is calling your name. From rainforest retreats, to lakeside fishing, not to mention the pristine beaches and dog parks specifically designed for the four-legged kind. There are fantastic caravan sites close to the Hinterland and if beachfront is more your style, you're spoilt for choice.
These sites are calling your name…
Pet Friendly Caravan Parks in Perth and WA
When you think of WA you think freedom and fun. The glistening glow from Cottesloe beach, to the vintage advantages of Margaret River. Don't forget the whale watching in Busselton. There are parks, walks, beaches, rivers and cafés enough to please all walks of life.
And if you're in the northern suburbs of Perth, Fur Baby Café is specifically situated to accommodate pets and their people. Don't skip the Barkery!
Check out these…
Pet Friendly Caravan Parks in Adelaide and SA
The festival capital of Australia, Adelaide, will have you tapping your toes, enjoying the great local produce and sipping a grape or two at the dog-friendly wineries in the McLaren Vale region. SA has a lovely laid-back feel, as do many of their caravan and campsites.
Sniff these suggestions out…
Pet Friendly Caravan Parks in Hobart and TAS
If you and the family want to embrace nature, Tassie offers a rich, historical tapestry of ruins, rapid rivers, rolling mountains and picturesque beaches. An ideal spot to fish, hike, camp, boat and dine, the apple-isle embraces pet-lovers with the idea of making your stay as relaxing as possible. The Spirit of Tasmania even provides kennels in transit.
Take a bite out of…
Pet Friendly Accommodation in Darwin and NT
Everybody needs to experience the remote beauty of the Northern Territory. Sensational sunset walks, spacious Holmes jungle nature parklands, off-leash dog parks and Casuarina Beach where everybody can cool off.
Dive into these ideas…
Pet Friendly Accommodation in Canberra and ACT
The nation's capital can't wait to get in on the act (wink wink) from your dog's perspective. There are friendly off-leash meeting places and parks that are fenced, dog-friendly wineries, cafes and swimming pools, even pram-friendly dog walks, if some members of the family are not quite walking yet.
Hot tips to act on…
Happy Trails
There is a great variety of pet friendly caravan parks throughout Australia and we are so excited for you to pack up the car and head out for a well-deserved break.
Holidaying with your dog brings a level of joy that can be accommodated and we trust this has been a source of vacation motor-vation. Happy trails and happy tails.
To book your next pet friendly holiday or for more accommodation options, visit: https://www.holidayingwithdogs.com.au/