Are you looking for the best dog-friendly walks on the Sunshine Coast? Look no further! We've rounded up five of the best walks to take your furry friend to, so you can explore the stunning landscapes of the Sunshine Coast together. Whether you're looking for a coastal stroll or a hike in the hinterland, these dog-friendly walks will have you and your pup enjoying the best that the Sunshine Coast has to offer.
Kawana Forest
Kawana Forest is located in the northern part of the Sunshine Coast, close to Mooloolaba and Caloundra. It is the perfect spot for pet-friendly walks on the Sunshine Coast as it offers an incredible array of activities for you and your pup. The area features a 3.5km long track that is off-leash and suitable for all levels of walking. It takes you through a variety of habitats ranging from open grassy areas to paperbark forests and a creek running through. The landscape offers plenty of space for your dog to explore, run around, splash in the water, or just enjoy some downtime. There are also plenty of shaded areas where you can take a break or find some shelter from the summer heat.
This is a great spot to explore with your four-legged friend, as it has all the necessary amenities including benches and dog-friendly water fountains. Kawana Forest also offers lots of opportunities for birdwatching and wildlife spotting, so keep your eyes peeled for native Australian animals like kangaroos and wallabies! Take a look at the Kawana Forest Trail here.
Maroochydore Beach dog friendly
Maroochydore Beach on the Sunshine Coast is a great spot to take your furry friends for a pet-friendly walk. With miles of sandy beaches and stunning ocean views, this is one of the most popular destinations for sunshine coast dogs.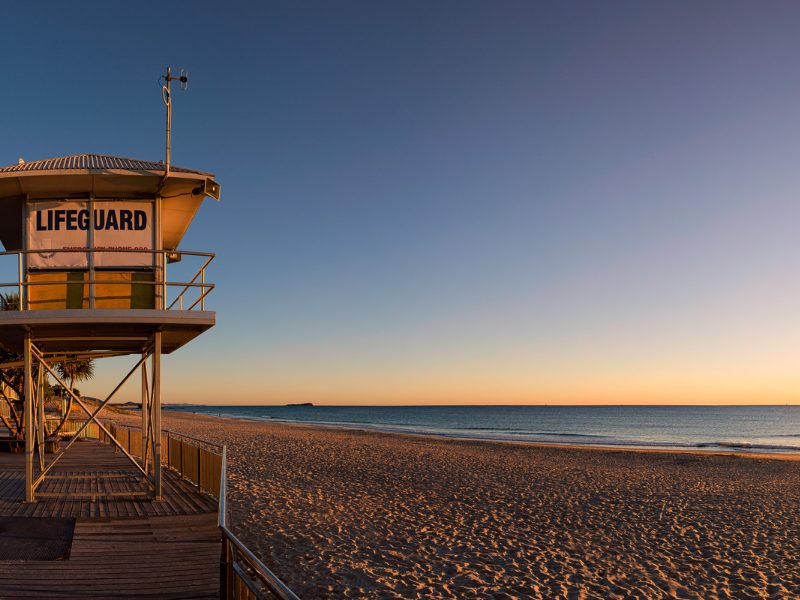 The beach has plenty of places to explore, with areas to swim, play and rest. Dogs are also welcome at Maroochydore Beach – they just have to stay on their leads while they're out and about. It's the perfect spot to take your pup for an afternoon stroll, and you'll often find other dog owners doing the same.
Nearby, there are plenty of dog-friendly cafes that offer tasty treats for both you and your pooch. The area is also home to a number of pet-friendly restaurants, where you can grab a bite to eat without having to worry about leaving your dog behind. Some favourites are:
Dogs love Maroochydore Beach because of its vast open space, which provides plenty of opportunities for running around, chasing balls, or simply lounging in the sun. Plus, with its spectacular coastline and beautiful scenery, you'll be spoilt for choice when it comes to picking a backdrop for your photos. All in all, it's a great spot for some quality bonding time with your pup.
Caloundra Coastal Walk
The Caloundra Coastal Walk is an incredibly scenic and pet-friendly walk located on the Sunshine Coast. It spans 12km of coastline, making it the perfect opportunity to explore some of the area's best beaches and attractions. This beautiful coastal path winds around some of the Sunshine Coast's most stunning bays, inlets and headlands, offering visitors breathtaking views of the ocean and nearby islands.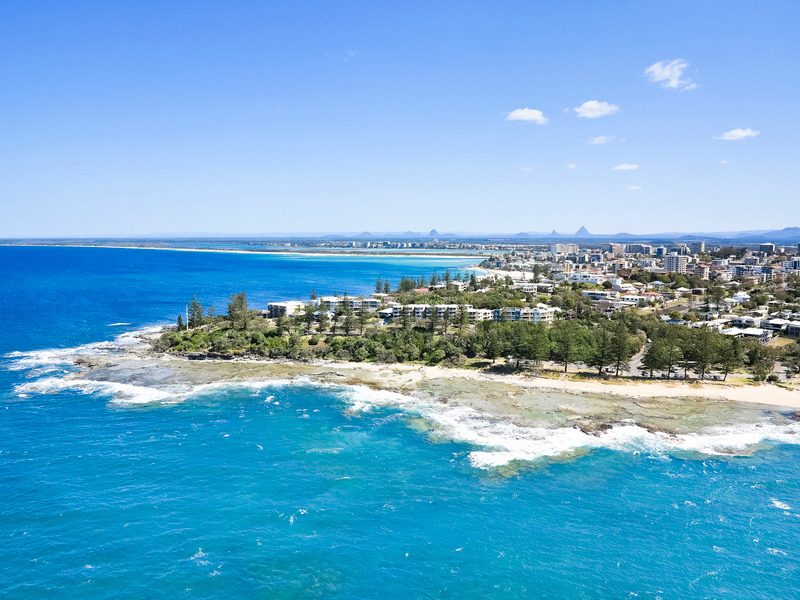 The entire walk takes approximately two hours, however, there are several access points along the way, making it easy to break up the journey into smaller sections. Pet owners can enjoy the freedom of taking their furry friends with them, as the entire walk is dog-friendly. The entire trail is also wheelchair accessible, so everyone can take part in exploring this stunning stretch of coast.
Along the route, you'll be treated to stunning views of Moffat Beach, Kings Beach and Happy Valley, as well as passing several landmarks including the Lighthouse at Caloundra Headland. The path also passes by several pet-friendly beaches, so make sure you bring a towel and plan to cool off with your canine companion!
The Caloundra Coastal Walk is an essential experience for anyone visiting the Sunshine Coast with their pooch. Whether you choose to walk it all in one go or break it up into smaller sections, you'll be rewarded with incredible views, fresh air and plenty of opportunities for a beach day with your four-legged friend. AllTrails has an excellent map with details on the track.
Coolum Beach off lead areas
Coolum Beach is one of the Sunshine Coast's most popular pet-friendly walks and beaches. The stunning sandy beach is located just south of Noosa Heads and is a popular spot for locals and visitors alike. Visitors love the wide expanse of sand, the crystal clear waters, and the fun activities that can be enjoyed here.
The nearby Coolum shops provide plenty of options for refreshments, snacks, and souvenirs. Or you can enjoy a delicious meal at one of the many local cafes and restaurants. There's also an off-leash dog park and beach on the northern end of the beach. This makes it easy to enjoy a leisurely stroll with your pup while taking in the views.
Coolum Beach is a great choice for those looking for pet-friendly walks on the Sunshine Coast. With its wide beach, off-leash area, and nearby shops, it's an ideal spot to spend some quality time with your canine companion.
Mudjimba Beach dog-friendly walks
For pet-friendly walks on the Sunshine Coast, Mudjimba Beach is a great choice. Located near Coolum, this beach is different to other beaches in the area because of its wide and sandy shoreline which is perfect for dogs. It's also one of the few off-lead dog-friendly beaches in the area, so it's great if you're looking to give your pup some freedom to run around and play without having to worry about rules and regulations.
Next up, let's take a look at La Balsa Park in Mooloolaba. This is another great spot for dog-friendly walks on the Sunshine Coast as dogs are allowed off-leash here. With beautiful walking trails along the riverbank and through tropical forests, La Balsa Park is definitely worth exploring when you're in the area. Plus, if you get tired from all that walking, there are plenty of places to stop and grab a bite or even sit down and relax with your pooch!
Pet-friendly accommodation Sunshine Coast
There are plenty of dog-friendly properties to choose from on the Sunshine Coast.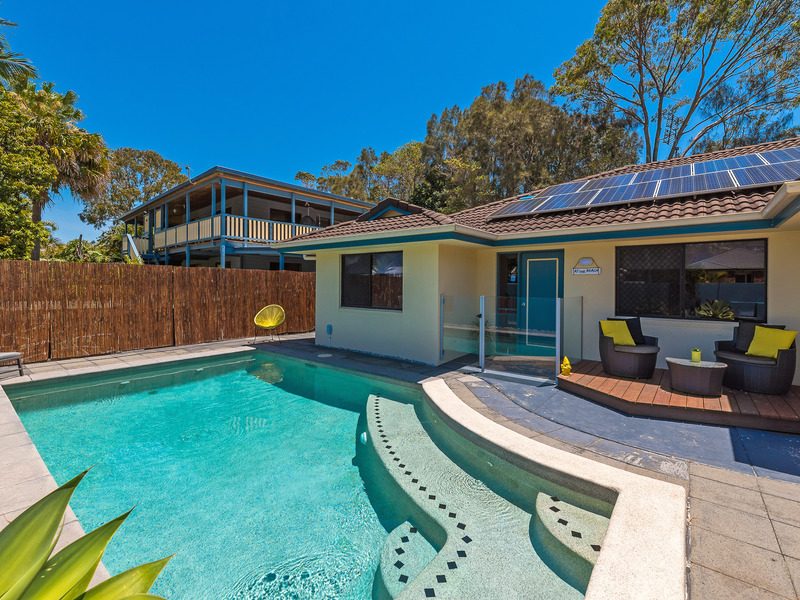 ---
If you have a favourite spot, we always want to hear your recommendations for dog-friendly walks on the Sunshine Coast QLD. Please comment below.