FREE to list and only 5.5% commission per booking
Welcome to Holidaying with Dogs. Australia's number 1 pet-friendly accommodation website. Holidaying with Dogs has been providing a reliable resource for the best dog-friendly holiday accommodation around Australia for many years; catering to guests who don't want to leave their dogs at home when they go on holiday.Your website listing will allow your property to shine; with beautiful photos and dog-friendly features displayed at a glance plus a quick-and-easy customer booking system.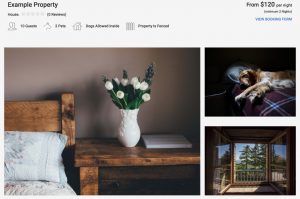 Join Australia's most trusted pet-friendly accommodation site and access our many loyal guests
Have your property profiled on the Holidaying with Dogs website, to our VIPooches and social media
Share your love of holidaying with dogs with others and receive property bookings at the same time
Receive guest reviews and be in the running to win a Five Paws Pet-Friendly Accommodation Awards celebrating Australia's best pet-friendly accommodation.
Review our Property Manager Terms and Conditions for more information.
How to list
Click on 'Sign up' enter in your details and follow the prompts to 'List your Property'
For assistance from the Holidaying with Dogs Team email [email protected] or call (03) 8300 7864. Our team is here to help answer any questions you have and help with the listing process.
For demonstration videos and resources, please visit the Property Manager Information Page.